Coke's New Television Ad Campaign Confronts Soda's Link to Obesity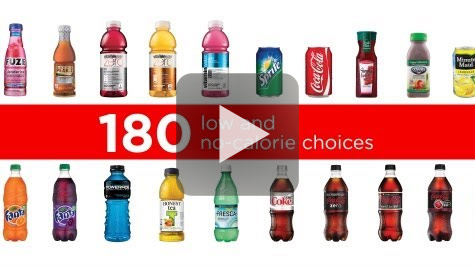 Coca-Cola has made obesity the focus of a new television advertising campaign. While it may seem ironic for the maker of sugary sodas to show its concern for this national health issue, the global beverage brand has created a series of commercials that describes the company's efforts to promote a healthy lifestyle. One television ad geared toward policymakers describes the steps the company has taken to help consumers make healthier choices. Another TV ad aimed at consumers focuses on the calories per can and offers tips for burning them off. The New York Times reported on how people are responding to Coca-Cola's outpouring of healthy intentions.
"There's a really important conversation going on out there about obesity, and we want to be a part of it because our consumer is telling us they want us to be a part of it," said Stuart Kronauge, general manager for sparkling beverages at Coca-Cola North America. "We've learned that consumers love more information from us and we really believe Coke has the power to connect people in a way that can help solve issues."
The beverage maker has been frequently cited for contributing to the nation's obesity epidemic, but this is the first time that they're addressing the issue head-on.
Unfortunately, the television ad campaign attracted rampant criticism before it even debuted. Some people in the health industry viewed the ads as pure public relations and felt that they trivialized the serious health risks of consuming too many sugary products. Others thought the TV ads would do nothing to fight obesity and that if Coca-Cola really wanted to make a difference, then the company should make a bold move like charging more for high-calorie sodas than it does for lower-calorie beverages.
Despite such harsh sentiments, Coca-Cola is forging ahead with its health-centric ad campaign and taking a defensive stance in the ongoing obesity crisis.
To discover the power of a creative television advertising campaign, contact MDG.
MDG, a full-service advertising agency with offices in Boca Raton and New York, NY, is one of Florida's top integrated marketing agencies. Our 360° approach uses just the right mix of traditional and digital marketing to reach your advertising goals. While some industries may fare better in print and others online, we strive to create a balanced approach, where traditional and digital marketing efforts support each other and your message is tailored to the medium. To learn more about the latest trends in marketing and advertising, contact MDG.
Read more at NYTimes.com.