Color Matters [Infographic]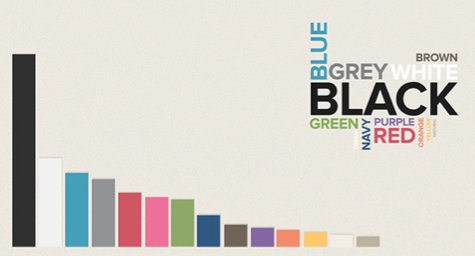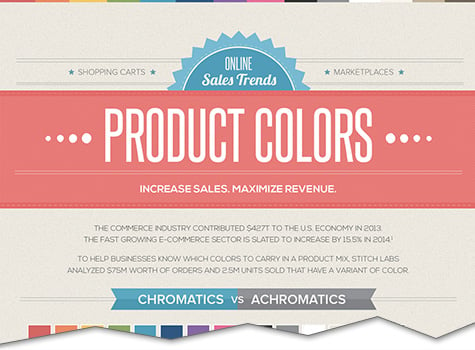 Today's customers are accustomed to choice, especially when it comes to product colors. They want to be able to express their style and create an impression through their use of color, whether in apparel, accessories, or automobiles. On a psychological level, choice gives people a sense of control and a stronger emotional connection to the products they purchase. Yet whether a greater choice of colors equates to greater revenue has long been a mystery. But after intense analysis, Stitch Labs has uncovered the power and profit potential of color choice and featured their spectrum of findings in a valuable infographic. Find out if offering a wide choice of product colors brings in the green and keeps a brand in the black.
[jump]
To determine whether a wide color choice is a bright idea, researchers examined the sales of products offered in various colors over the span of a year. They divided their results into chromatics, which are colors with distinct hues, and achromatics, which are colors with no hue or a natural one. Then, they compared the sales dollars and portion of unit sales generated by each of these two color groups.
Take a look at the red-letter results:
Average revenue per unit is 15% higher for achromatic colors than chromatic ones.
Achromatics account for 63% of sales, which is almost two-thirds of all units sold.
34% of all unit sales are for black items, making black the most frequently purchased color for an item.
Black is 2.4 times more popular than the next most popular color, white, making it essential to a brand's product selection.
For achromatics, the average revenue per unit ranges from $35 for brown to $28 for white.
For chromatics, the average revenue per unit spans from $35 for navy to $20 for pink.
More than 40% of the world name blue as their favorite color, yet bright blue is only the third most popular color in terms of sales.
Yet a dark shade of blue, navy, has the highest average revenue per unit.
Purple, pink, and yellow have the lowest average revenue per unit of all of the colors.
Yellow is one of the least popular colors and earns the second-lowest average revenue per unit rate.
While this research serves as black-and-white proof of the value of color and provides a blueprint for creating a lucrative color mix, it's important for brands to customize their color options to reflect the specific tastes and trends of their target markets.

Infographic by Stitch Labs.
See what's trending in retail marketing. Contact MDG today at 561-338-779 or visit www.mdgsolutions.com.
MDG is a full-service advertising agency and one of Florida's top branding firms. With offices in Boca Raton and New York City, MDG's core capabilities include branding, logo design, print advertising, digital marketing, mobile advertising, email marketing, media planning and buying, TV and radio, outdoor advertising, newspaper, video marketing, Web design and development, infographic development, content marketing, social media marketing, and SEO. To discover the latest trends in advertising and branding, contact MDG today at 561-338-7797.