Consumer Trend Toward Online Medical Search Makes Web Presence Critical for Healthcare Brands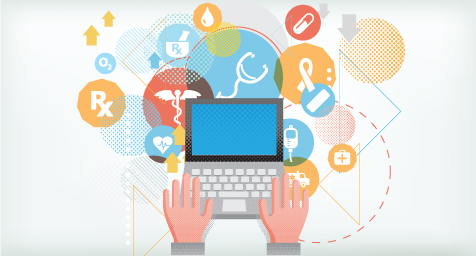 Today, consumers are visiting the Web much more than the doctor's office for their healthcare needs. The average U.S. consumer visits the doctor three times per year but spends almost 52 hours searching online for health information. These are just a few of the important findings from a recent consumer survey conducted by Makovsky Health and Kelton. Apparently, the Internet has clearly become the go-to medical resource for today's on-the-go consumers who want instant access to medical information. With consumers so likely to check the Web for wellness information, healthcare brands need to develop a healthy online presence in order to reach the consumers they're trying to treat.
The study reveals that physicians are a major catalyst in this quest for online medical research, with 51% of patients visiting a pharma brand's website following a doctor's diagnosis.
And while WebMD is the most visited online resource for healthcare information, social media channels continue to gain popularity as medical sources. Nearly one-quarter of consumers seek healthcare information from social media, such as Facebook, Twitter, YouTube videos, and blogs.
"The survey results demonstrate that even as consumers research health-related information online, they seek trusted resources for that information–their physician, or a fellow patient," said Gil Bashe, executive vice president and practice director, Makovsky Health.
Since consumers are actively seeking relevant and reliable healthcare information on the Web, this is the ideal opportunity for healthcare brands to establish themselves as online help lines for patients and their caregivers. This can be easily accomplished by developing websites and social media identities that educate, engage, and encourage ongoing dialogue. With these worthwhile online efforts, brands can position themselves as credible and compassionate sources of support and ultimately earn the trust, loyalty, and recommendation of consumers.
"Healthcare providers and patient advocates serve an increasingly key role in guiding consumers to credible information and community support that can benefit their care," Mr. Bashe explained. "Our job as communicators remains connecting patients in need with the information and resources that advance their well-being."
It's important to realize that an effective online presence extends far beyond the desktop computer today. The ubiquity of mobile devices and the on-the-go lifestyle of modern consumers mean that people are accessing healthcare information from anywhere and at any time. As a result, healthcare brands need to ensure that their Web presence and properties are all optimized for viewing on all digital devices, especially smartphones and tablets. In fact, tablets have seen a 7% rise in usage in the past year alone.
Whether driven by a physician's prescription or a personal quest for knowledge and support, more and more consumers are turning to the Web for their medical matters. These people are seeking to find information, guidance, and support from sources they can trust. That's certainly the perfect opportunity for healthcare brands to show up in their searches with the medical knowledge, patient insight, and helping hand that can save the day and ultimately save their lives.
Develop a healthy Web presence for your healthcare brand. Contact MDG today at 561-338-7797 or visit www.mdgsolutions.com.
MDG, a full-service advertising agency with offices in Boca Raton and New York, NY, is one of Florida's top healthcare marketing companies, whose clients include Dental Care Alliance, MDVIP, Max Planck Florida Institute, Primary Pharmaceuticals, and HCA East Florida. MDG's 360° approach uses just the right mix of marketing media to reach your advertising goals, where traditional, digital, and social media marketing efforts support each other and your message is tailored to the medium. Learn more about the latest trends in healthcare marketing by contacting MDG today at 561-338-7797 or visit www.mdgsolutions.com. To read more about how 2013 is changing the way healthcare is delivered and marketed, take a look at "5 Big Changes That Will Reshape the Healthcare Marketing Landscape Forever."