Content is the Biggest Trend at Fashion Week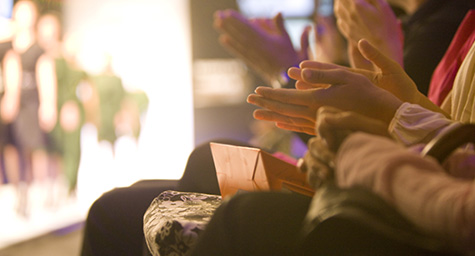 Digital content is stealing the show at this year's New York Fashion Week. It's giving people a front-row seat to all of the glamour, gossip, and goings-on at the fashion shows from the stage, on the street, and behind the scenes. It's showing all of the clothes and every pose to let viewers live vicariously as a full-fledged fashionista. NewYorkTimes.com offered a look at how content is the look of the shows.
Refashioning Fashion Week
Now in its 73rd year, Fashion Week was originally designed to give the fashion industry a private peek at the season's styles. But now, all of the clothes and the commotion have been repackaged into compelling content that the world can't wait to watch.
This new fashion vision was created by WME/IMG, which is the entertainment and sports management group that runs 13 Fashion Weeks around the globe. With their focus on entertainment, they've revamped Fashion Week from an exclusive event for the trade into a content-creation outfit.
They've made the entire event more creative and less commercial, to provide a steady stream of content and appeal to audiences both inside and outside the industry. While the event used to be geared toward trendsetters and big spenders, it's not designed for the fashion-consumed consumer. Designers are no longer positioned as celebrities, but simply the talent behind the brand.
To debut this new view, the shows have been moved from the grand Lincoln Center to two smaller locations with fewer shows and designers. And the name of the event has been changed from haute Mercedes-Benz Fashion Week to the more humble New York Fashion Week: the Shows.
A Picture-Perfect Package
Fashion's move toward content came at the perfect time. Designers were worried that the event was becoming overly commercial. Social media had just progressed into fashion through bloggers and celebrities, which made consumers crave a peek at the fashionable week.
Right at this time, WME/IMG took charge of the shows and offered to repackage Fashion Week as a desirable digital package of compelling, continuous content that was open to everyone.
A Picture-Perfect Package
Now that Fashion Week has become a stage watched by the world, advertisers are taking advantage of this fashionable forum.
According to AdAge.com, Cadillac is airlifting its new series of crossover cars high above New York Fashion Week events. Their goal is to gain the attention of fashion insiders and inspire them to create editorial content that celebrates the vehicles. After all, younger consumers favor authentic editorial content over clear-cut marketing. With this promotional event, Cadillac hopes to get the approval and advocacy of the fashionable crowd and position the brand as desirable to the younger market.
This is a very different marketing approach than in years past when the brand promoted its cars only to auto journalists and car aficionados interested in a car's technical specs. Today, Cadillac realizes that its target younger market is much more interested in fashion and design.
Now that content is the star of New York Fashion Week, it should open a world of opportunities for the world to get into style.
Discover what matters in content marketing. Contact MDG.
MDG, a full-service advertising agency with offices in Boca Raton and New York, NY, is one of Florida's top branding firms. MDG's core capabilities include print advertising, direct mail marketing, branding, logo design, creative, digital marketing, media planning and buying, radio and TV advertising, website design and development, online video advertising, content marketing, email marketing, content marketing, social media marketing, and SEO. To learn about the latest trends in advertising and branding, contact MDG.