Coverall Garners Accolades from World Franchising Network and Military Times EDGE Magazine for Military Vet Franchising Opportunities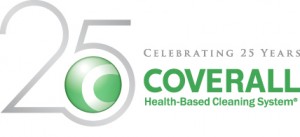 Boca Raton/Florida | April 2010
Coverall Health-Based Cleaning System, a leading franchisor of commercial cleaning businesses, has been named the #1 Overall "Best for Vets" franchising system for U.S. veterans by Military Times EDGE magazine and among the World Franchising Network's "50 Top Franchises for Military Veterans," published in a special Franchising Today section of USA Today on April 9.
The health-based cleaning system franchisor received the Military Times EDGE honor based on leading rankings in specific performance data, veterans accommodations, average investment and industry ranking. Announced in the same week, the World Franchising Network rankings were based on a survey of hundreds of national franchise companies who responded by noting their special programs available to veterans.
"Coverall actively seeks military veterans as franchisees because we recognize that those with military experience have the discipline and experience in structured environments needed to successfully start a new business and execute a business plan. We also owe our country's freedom to the discipline and sacrifice of our vets, and so we offer incentives in recognition of their contribution," said Ted Elliott, president and CEO of Coverall Health-Based Cleaning System. "While these accolades help validate our commitment to U.S. veterans, they also stand as important parts of our mission: to empower franchisees everywhere with the tools they need to start a successful, independent business under the Coverall brand." Read the press release….
About Coverall Health-Based Cleaning SystemSM
Founded in 1985, Coverall Health-Based Cleaning System is one of the world's leading commercial cleaning franchising companies with a worldwide network of more than 90 Support Centers and 9,000 franchisees currently servicing more than 50,000 customers in over 90 metropolitan areas. Coverall Health-Based Cleaning System is revolutionizing the commercial cleaning industry with its science-based cleaning processes and procedures designed to reduce cross-contamination and aid infection control. For more information, visit www.coverall.com