Did JetBlue's Incredible Edible Ad Take Off with Consumers?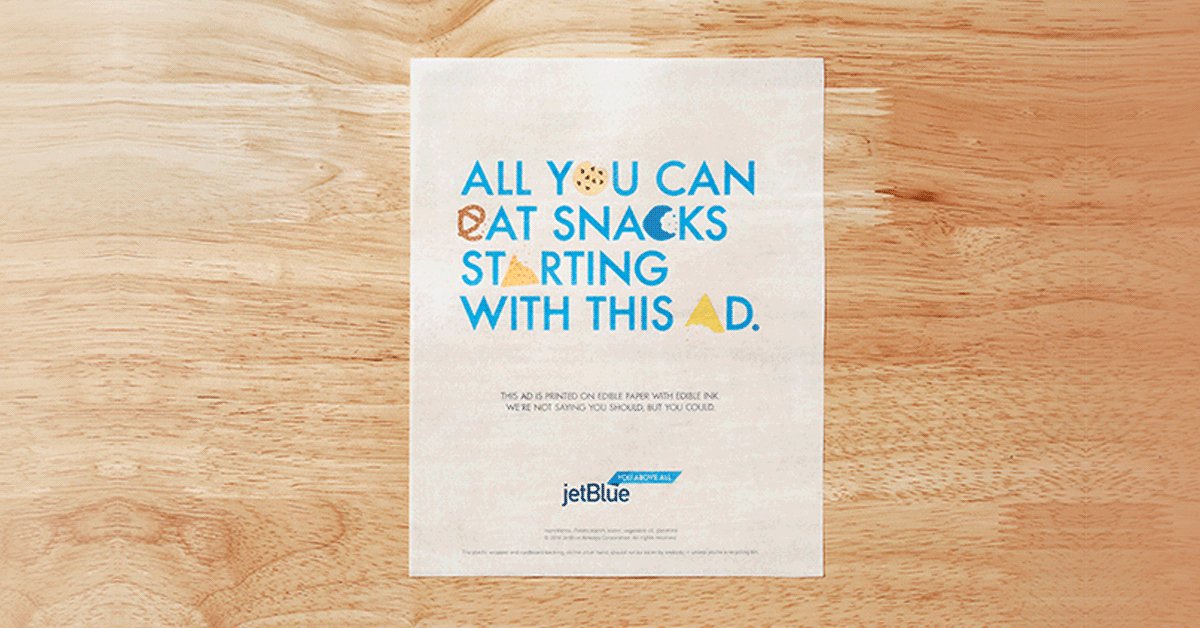 When other airlines stopped serving complimentary in-flight snacks, JetBlue flew to the rescue by always giving its passengers free unlimited bags of goodies like chips, cookies, and crackers. This generous gesture propelled the airline to become a favorite of travelers. While those who have flown JetBlue are well aware of these complimentary snacks, some people still don't know about this rare in-flight perk. To feed their need to spread the news about these all-you-can-eat snacks, JetBlue launched a savvy snack promotion that people are literally eating up! The airline recently rolled out a completely edible paper ad, created by MullenLowe, to give people a taste of the free snacking it's packing. Hungry to learn more? AdWeek shared the details of this creative concept.
JetBlue has offered free unlimited bags of snacks to passengers on every flight since the airline first began. Now, the company has decided to share the snacking it offers in a clever, creative way. To accomplish this, JetBlue placed its very first edible paper ad in the New York Post. The ad was made out of potato starch, vegetable oil, glycerin, and water. The edible ad featured a message about JetBlue's all-you-can-eat snacks and was actually printed on paper that readers could eat. It included a line of copy stating that JetBlue wasn't saying that people should eat the paper ad, but it was possible if they wanted to.
While the tie-in was a perfect pairing, edible ads have also been used by other brands in the past. For JetBlue, this incredible edible promotion highlighted an important brand distinction about their exceptional customer service by giving people a taste of this popular in-flight perk.
Learn the latest high-flying happenings in print advertising. Contact MDG.
MDG, a full-service advertising agency with offices in Boca Raton and New York, NY, is one of Florida's top branding firms. MDG's capabilities include print advertising, direct mail marketing, branding, logo design, creative, media buying and planning, radio and TV advertising, outdoor, newspaper, digital marketing, website design and development, online video advertising, infographic development, email marketing, video marketing, mobile marketing, content marketing, social media marketing, paid search marketing, and SEO. To learn about the latest trends in advertising and branding, contact MDG.