Discover Today's Top Trends in Travel Search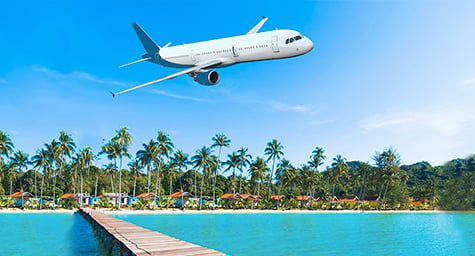 Travel is flying high again. eMarketer reports that U.S. travel sales are projected to exceed $153 billion dollars in 2015. And Americans are expected to spend 8% more on leisure trips this year than in 2014, according to research by Choice Hotels International. To help hospitality marketing experts reach this growing group of travelers, Bing Ads recently shared the latest research on travel search compiled from comScore and other third-party data. Wordstream.com featured these findings to help travel brands boost their bookings.
Plan to Succeed in Search
A smart strategy is essential to reach travelers throughout the travel process. Studies show that mobile plays a part both before the trip in planning decisions, as well as during trips to determine spending. In fact, Bing research found a 43% year-over-year rise in the number of travel-oriented smartphone searches. To make the most of these travel findings:
Optimize your websites for mobile or run marketing campaigns with only telephone calls-to-action.
Target the mobile travel searcher by placing mobile preferred ads.
Use all kinds of ad extensions to give mobile searchers the information they need.
Utilize app extensions to drive downloads.
Promote at Travel Searching Seasons
There are certain times of the year when people are more likely to seek out travel. For summer, focus on June through August when people want to escape from the office. For winter, concentrate on December through January when people are trying to escape from the weather. Use these tips to make the most of these peak weeks:
Develop a solid seasonal strategy to take advantage of these times.
Plan to increase your budgets during these seasons to capture more conversions.
Incorporate seasonal language in your ads and promotions to attract travelers.
Stay with Travelers Throughout Their Stay
Travelers tend to more spontaneous on their trips. This leads many to spend spontaneously, which is why 58% of travel spending happens during the trip. And travel marketing professionals must be there for all of these moments with offers that entice travelers to extend their trips. Such spontaneity also occurs in travel planning, with more than half of searches on hotel mobile websites occurring within a week of the actual travel time. To leverage these last-minute bookings, marketers need to use time-sensitive language such as, "Last chance to book," or "Book today and save."
Bid on Your Own Brand Terms to Boost Clicks
Many hospitality marketers have doubts about the need to bid on their brand terms. But Bing research revealed that bidding on your own brand terms can lead to many more clicks. According to Bing research, one company saw a 32% rise in brand clicks by bidding on their brand keywords instead of solely using SEO.
Utilize Cross-Device Attribution Reporting to Make Smarter Optimizations
Today, it's a cross-device world where people use multiple digital devices simultaneously. In fact, eMarketer reports that about 60% of travelers use a variety of devices to research and reserve travel. To convert people in all of the places they plan their trips, travel marketers must have a presence on all digital devices at all pertinent times. Then, they need to measure and report on these cross-device conversions to optimize their hospitality marketing strategies.
Key in on the trends in hospitality marketing. Contact MDG.
MDG, a full-service advertising agency with offices in Boca Raton and New York, NY, is one of Florida's top hospitality marketing companies and branding firms. MDG's core capabilities include advertising, branding, logo design, creative, infographic development, digital marketing, creative media planning and buying, radio and TV advertising, website design and development, email marketing, mobile marketing, content marketing, social media marketing, and SEO. To stay on top of the latest trends in hospitality marketing and advertising, contact MDG.