Does Instagram Really Matter in Travel Marketing?

Instagram matters much more than meets the eye. The photo-sharing platform has quickly become one of the top five travel marketing channels, with 60% of travel companies including it in their marketing. And with 71% of Millennials engaging in social media every day and 83% of consumers placing the most trust in peer recommendations, the popularity of user-generated social content is clearly here to stay. No wonder 79% of travel brands plan to increase their social media spend and leverage user-generated content over the coming year. These findings were just a few of the many found in research from a new EyeforTravel report, which was compiled into an infographic called "The State of User Generated Content in Travel 2016." To explore how travel brands plan to generate marketing success from social media and user-generated content, eHospitality.com packed up the key results.
Where Travel Brands Want to Go with Social Media
With 79% of travel companies looking to invest more in social this year, what are their goals for their social media marketing? According to the report:
92% aimed for brand recognition and awareness
79% sought engagement
69% wanted website traffic
Most Popular Places for Travel Marketing
The ever-increasing number of social media networks can make it hard for travel brands to know which marketing channels to choose. The research revealed that most travel marketing experts planned to use the following five platforms:
94% will use Facebook
77% will use Twitter
66% will use YouTube
65% will use LinkedIn
64% will use Instagram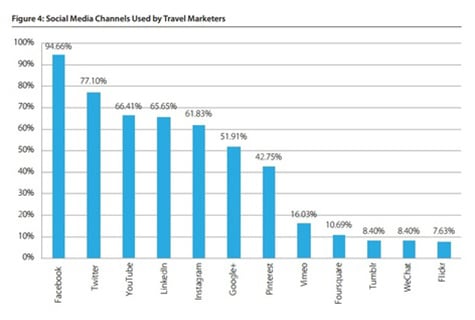 6 Strong Social Strategies for Travel Brands
Keep all branded social media content relevant, honest, and local.
Display more videos and visual media on social media channels because imagery is an important part of travel decisions.
Integrate social media directly into the brand's website, such as blogs, videos, and links to social content.
Hire more employees designated to monitoring and managing social media efforts and properties.
Reward the brand's fans and followers since they generate the most revenue and recommendations.
Respond to both positive and negative feedback to manage the brand's image and create a caring impression.
To see the big picture on the value of social media and user-generated content for travel marketing, check out the infographic.
Discover the value of user-generated content in travel marketing. Contact MDG.
MDG, a full-service advertising agency with offices in Boca Raton and New York, NY, is one of Florida's top hospitality marketing companies and branding firms. MDG's core capabilities include advertising, branding, logo design, creative, infographic development, digital marketing, creative media planning and buying, radio and TV advertising, website design and development, email marketing, mobile marketing, content marketing, social media marketing, and SEO. To stay on top of the latest trends in travel marketing and advertising, contact MDG.