Driving-Dogs Ad Campaign Drives Up Adoption of Shelter Dogs in New Zealand [Video]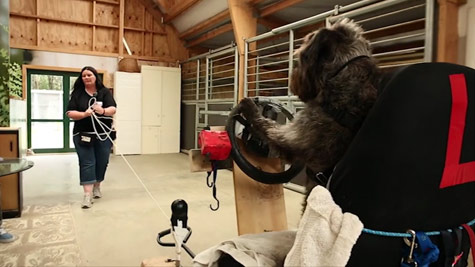 An attention-grabbing advertising campaign featuring dogs actually driving cars has revved up momentum for the adoption of shelter dogs in New Zealand. This wild and witty advertising campaign was sponsored by the New Zealand branch of the Society for Prevention of Cruelty to Animals (SPCA), which collaborated with animal trainer Mark Vette from Animals on Q, MINI New Zealand, and the Draftfcb New Zealand advertising agency to teach three shelter dogs how to drive a modified MINI Countryman Cooper S. MediaPost.com reported on how this lively ad campaign has boosted both awareness and adoption of shelter dogs.
The ad campaign launched in December by encouraging people to tune in to the Campbell Live television show to watch a dog driving a car for the first time on live TV. After viewing the performance, people were directed to the Auckland SPCA website or to their local SPCA location to learn more about the dogs available for adoption. To generate buzz for the astonishing event, training videos that showed the dogs learning how to brake, turn the steering wheel, shift gears, and accelerate were posted online and the videos quickly went viral.
The campaign tagline of "Dogs this smart deserve a home" resonated with viewers and drove crowds of people to the SPCA Auckland. As a result, the shelter's whole stock of puppies was adopted within only a few weeks of the ad campaign. Two of the three dogs that drove in the television promotion were adopted by the trainers who taught them how to drive. All three talented animals have Facebook pages that provide fans with updates on their well-being and the three frequently get together to play.
The success of the ad campaign already inspired a follow-up promotion that gave every shelter dog adopted a special car-shaped carrying box to "drive" home in. Designed to look just like a miniature MINI, the box featured a convertible roof and transformed into a dog bed where puppies could comfortably spend the first eight weeks of their lives. These carrying boxes could even be customized with a personalized sticker sheet to create a vanity license plate and each box came with an owner's manual, all courtesy of MINI.
As the ad campaign clearly shows, using a little creativity and a playful approach can drive people in droves and have them begging for more.
To learn more about the power of our 360º integrated marketing approach, contact MDG.
MDG, a full-service advertising agency with offices in Boca Raton and New York, NY, is one of Florida's top integrated marketing agencies. Our 360° integrated approach uses just the right mix of traditional and digital marketing to reach your advertising goals. MDG specializes in developing integrated marketing solutions, exceptional creative executions, and solid branding and media-buying strategies that give clients a competitive advantage. Our core capabilities include branding, logo design, creative, digital marketing, media planning and buying, award-winning print ads, radio and TV advertising, online video, Web design and development, email marketing, social media marketing, and SEO. To learn more about the latest trends in marketing and advertising, contact MDG.
Read more at MediaPost.com.