Duracell Unveils a Powerful Ad Featuring Deaf NFL Player, Derrick Coleman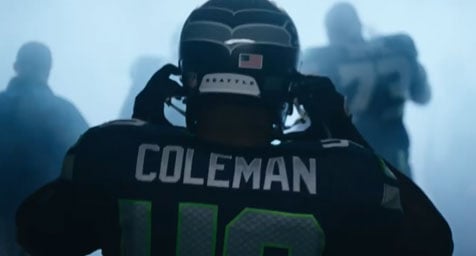 There's never a shortage of great ads around Super Bowl time, but what will likely be one of this year's standouts debuted on YouTube last Friday. The thirty-second commercial for Duracell batteries features Seattle Seahawks fullback, Derrick Coleman. According to Adweek, Coleman is the first legally deaf player in the NFL offense.
In the commercial, 23-year old Coleman tells the story of what it was like growing up with a hearing impairment. He explains how he was mistreated by other kids and misunderstood by his coaches. "They didn't call my name, told me it was over." He then delivers the most powerful line in the script, "But I've been deaf since I was three, so I didn't listen." The commercial concludes with the line, "Trust the power within."
The spot stays true to Coleman's real life. By using hearing aids and reading lips, he overcame his disability to become a star fullback at his high school in Fullerton, California. He then went on to be rated the number-two fullback in the country upon entering college. But even though he had a stellar career at UCLA, the 2012 NFL draft ignored him. Refusing to give up, Coleman tried again the following year and was picked up by the Seahawks.
When asked by Sporting News what inspired the deal with Duracell, Coleman says, "They came to me and said they liked my story. I just hope to inspire people, especially children, to trust the power within and achieve their dreams."
Whether the ad sells more Duracell batteries remains to be seen. If nothing else, this inspirational story will surely have fans cheering on the Seattle Seahawks. As reported by Mashable, the commercial, Trust Your Power, has received nearly two million views since its posting on YouTube last week.
To stay up-to-date on the latest advertising and branding developments, contact MDG.
MDG, a full-service advertising agency with offices in Boca Raton and New York, NY, is one of Florida's top branding firms. MDG's core capabilities include print advertising, direct mail marketing, branding, logo design, creative, digital marketing, media planning and buying, radio and TV advertising, Web design and development, online video advertising, email marketing, content marketing, social media marketing, and SEO. To learn about the latest trends in advertising and branding, contact MDG.