Duracell Brings Charging Stations to Battery Park After Hurricane Sandy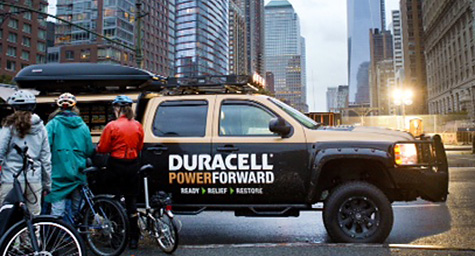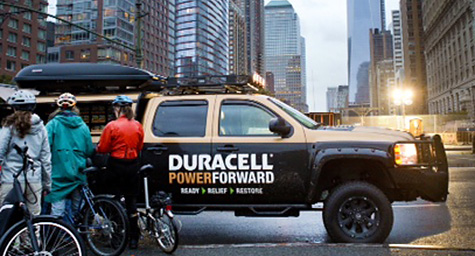 Duracell has charged onto the scene to help those affected by Hurricane Sandy as part of the battery brand's ongoing disaster-relief community effort. Ironically, the scene in need this time was Battery Park in Lower Manhattan. Late Tuesday afternoon, the Procter & Gamble brand set up its Power Responder Community Center in the urban park and sent its new Rapid Responder truck to roam the roads of New York and New Jersey. These two vehicles are handing out samples of popular sizes of batteries so people can refill their supplies and use their flashlights and radios. They are also equipped with numerous charging stations for smartphones and mobile devices, along with computers with Internet access to provide a way for those affected by the storm to use their social media and email accounts. AdAge.com reported on how Duracell is using its brand power to help those left powerless.
Duracell selected Battery Park as the site for its Rapid Responder truck since the surrounding area suffered some of the worst damage in the storm and because there is a huge population of people struggling with the devastating aftermath. This is only the second voyage for the unit, which was first used last month to aid those in New Orleans affected by Hurricane Isaac. The decision to set up in Lower Manhattan was apparently popular among Duracell's 1.8 million Facebook fans as it generated more than 1,300 'likes' in only a couple of hours.
For others throughout New York and New Jersey who can't get to the park, the rugged Rapid Responder truck is a way for Duracell to send some relief directly to those in more rural locations.
Beyond these two relief efforts, Duracell has opened its offices to employees without power at home to allow them to charge their phones and take showers. The battery brand also responds to retailers in need of new stock through an additional Mobile Command Center that can be dispatched at a moment's notice.
"This is what the brand is about," said Duracell spokesman, Win Sakdinan. "Empowering people through devices; connecting their families."
At MDG, a full-service South Florida advertising firm with offices in Boca Raton and New York, NY, our 360° marketing approach uses just the right mix of traditional and online media to reach your marketing goals. While some industries may fare better in print and others online, we strive to create a balanced approach where digital and traditional advertising efforts support each other and your marketing message is tailored to the medium. To stay on top of the latest trends in advertising, contact MDG.
Read more at Adage.com.