Ellen DeGeneres Secures Password Awareness with Wacky Infomercial [VIDEO]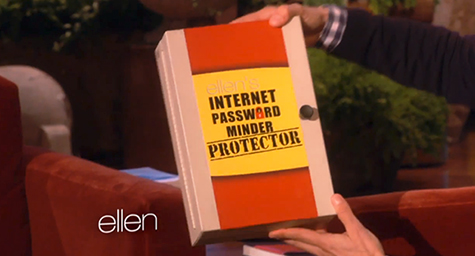 Infomercials provide some of the best entertainment on late-night TV because the products they push are often so crazy and kooky that they guarantee a laugh or at least a chuckle of disbelief. Ellen DeGeneres also finds them funny and recently mentioned one of their featured products on her daytime talk show. The product she picked was the Internet Password Minder, which claimed to solve the common computer security problem of remembering passwords. Since it sounds too goofy to be true, Sophos.com took a closer look.
In the infomercial, customers sing the praises of the product and love the convenience of keeping their passwords in one place.
On her show, Ellen humorously mentioned that it would be cheaper to just write the passwords down on a five-dollar bill. She then joked about the convenience of keeping it right in your wallet.
But seriously, Ellen brought the issue of password security to America's attention. There is actually some great password management software, such as KeePass and LastPass, for people who have trouble remembering their passwords or keep different passwords for different purposes.
Yet with a little humor and a lot of heart, Ellen managed to hit home with viewers before password thieves could get the chance!
Use media to maximize your opportunities. Contact MDG today at 561-338-7797, or visit www.mdgsolutions.com.
MDG is a full-service advertising agency and one of Florida's top creative ad agencies. With offices in Boca Raton and New York City, MDG's core capabilities include branding, logo design, digital marketing, print advertising, mobile marketing, email marketing, media planning and buying, TV and radio, outdoor, newspaper, video marketing, Web design and development, content marketing, mobile marketing, social media marketing, and SEO. To stay on top of the latest trends in marketing and advertising, contact MDG today at 561-338-7797. To see some clever and compelling branded video ad campaigns, click on "View June's Best Branded Video Advertising Campaigns."