Expert Tips for Receiving Better Email Deliverability Rates [Infographic]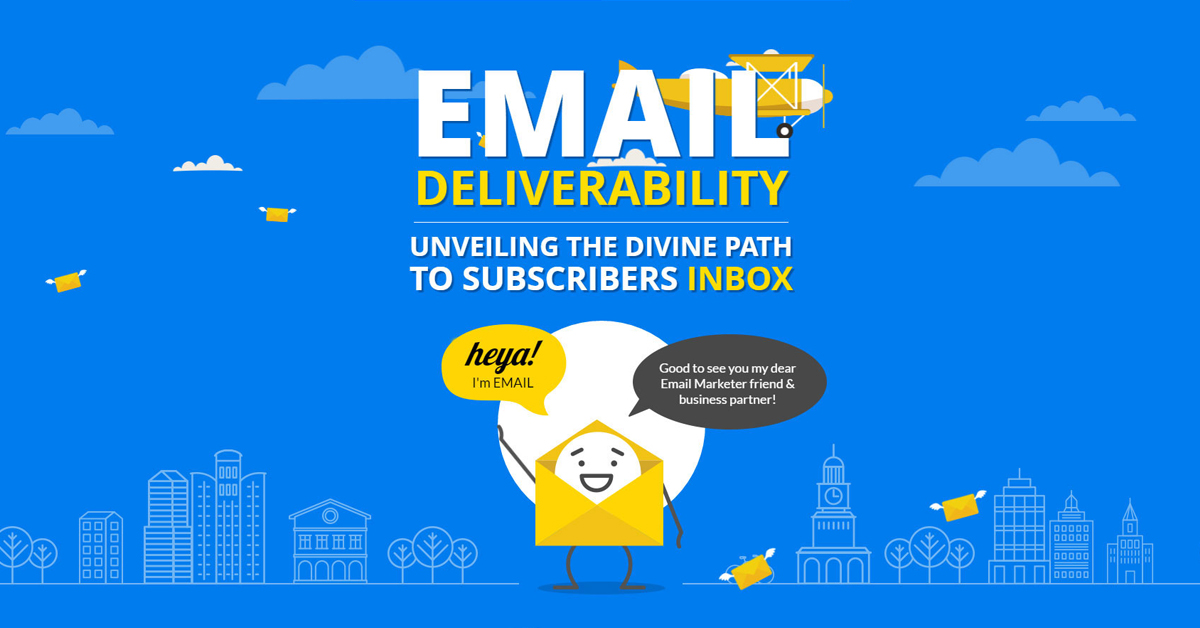 Research shows that email delivers a stunning ROI of 4300%, which is much higher than any other marketing tactic, including SEO and social media. But, unfortunately, data also reveals that only 79% of commercial emails actually end up in the inbox. This is a major concern for email marketers, and it shows the need to greatly improve email deliverability rates. A new infographic created by Email Uplers, Email Deliverability—Unveiling The Divine Path To Subscribers Inbox identifies the most effective techniques for improving your IP reputation and confirming that your emails actually reach the subscriber's inbox. It also displays smart tips on boosting email deliverability rates. Email.Uplers.com shares other important email insights to open up your eyes to better email deliverability.
Why Emails Are Ending Up in the Trash
While an email's content relevancy, layout, and frequency contribute to its deliverability, the most important factor is the sender's IP address reputation. ISPs and spam filters evaluate a sender's reputation to determine whether their emails should be allowed or blocked. Even though you may think you have a good reputation, that may not be the case. A surprising number of marketers have no idea about the quality of their sender's reputation and how well their emails are delivered. Luckily, there are many free online tools available that can pinpoint problem areas that can be remedied to improve overall standing and deliverability rates.
[jump]
According to the graphic, email authentication is similar to a security check of a sender and is essential to inbox deliverability. It allows the ISP to confirm the identity and quality of the sender to determine if the email has been sent by a friend or a spammer. In addition, it can help marketers maintain a high sender reputation.
A List of Metrics Measuring Sender Reputation
According to the infographic, there's no mystery to what determines sender reputation. A marketer's standing is measured by the following factors:
The ratio of spam complaints from email recipients.
The score of your IP address compared to all others on external blacklists and whitelists.
The ratio of frequency that your emails are bounced back compared to other IP addresses.
Ratio of emails accepted versus the number rejected.
The ratio of unknown users, or invalid email addresses, compared to the number of emails opened.
Volume of emails sent from an IP address compared to the number of complaints received.
The subscriber "unsubscribe" rate based on your email sending behavior.
8 Ways to Open Up Better Email Deliverability
Always Ask Permission: Respect a consumer's privacy by asking for permission to add them to an email list.
Provide for Personal Preferences: Confirm how frequently how each subscriber wants to receive emails.
Don't Deceive: Avoid deceptive, unethical practices like using misleading subject lines since it will decrease credibility and email acceptance.
Segment Subscribers: Reduce low open rates by practicing sending emails to consumers by their expressed interests, prior purchase behavior, and past open and click-through rates.
Better Safe Than Sorry: Include a link in the email template requesting subscribers to add you to their safe senders list. If the email server continually rejects emails, delete the recipient from the list to protect your sender reputation.
Allow to Unsubscribe: Place an "unsubscribe" link in every email to avoid being deleted or reported as spam, both of which will hurt your sender reputation.
Continually Clear Email Lists: Remove inactive and unresponsive subscribers from email lists on a regular basis.
Respect the Rules: Follow spamming guidelines and practice ethical email approaches.
By following these email best practices, you'll improve your deliverability rate and ultimately increase your email marketing ROI.

Infographic by Email.Uplers.com
Read up on the latest tactics in email marketing. Contact MDG today at 561-338-7797 or visit www.mdgsolutions.com.
MDG, a full-service advertising agency with offices in Boca Raton and New York, NY, is one of Florida's top branding firms. MDG's capabilities include print advertising, direct mail marketing, branding, logo design, creative, media buying and planning, radio and TV advertising, outdoor, newspaper, digital marketing, website design and development, online video advertising, infographic development, email marketing, video marketing, mobile marketing, content marketing, social media marketing, paid search marketing, and SEO. To learn about the latest trends in advertising and branding, contact MDG today at 561-338-7797 or visit www.mdgsolutions.com.