Facebook Ads vs. Paid Google Search (PPC): Which Should Your Brand Use?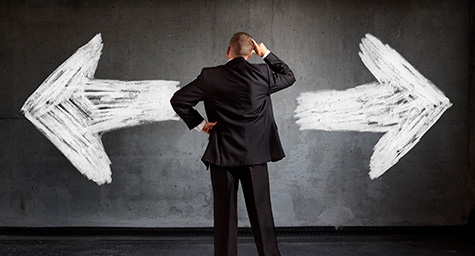 Over the past few years, the sophistication of paid search and paid ads on social media has increased dramatically.
With new ad formats, expanded targeting options, and more powerful measurement tools, it's now possible for companies to use these channels to reach audiences more effectively than ever.
While this is great news overall, it also presents a bit of a challenge. Both pay-per-click (PPC) search ads, through platforms such as Google AdWords, and paid social media options such as Facebook Ads, are now so complex and powerful that it can be difficult to know when to use each.
The first thing for marketers to keep in mind when evaluating the two is that paid social and paid search are distinct channels. Consumers use search and social media in different ways, and the platforms' advertising formats are tailored to these behaviors. Therefore, trying to use social and search ads in the same ways to accomplish the same goals isn't very efficient.
To make the most of your marketing budget, it's important to understand the specific advantages of paid search and paid social, and then develop a framework for deciding when to use each channel.
So, what are the major strengths of paid search and paid social ads? Here are some of the most important cases for using each:
Paid Social
Target hyper-specific audiences and highly competitive verticals: Social networks such as Facebook have access to much richer data about individual users—including demographics and psychographics—than search engines such as Google, which can only target keyphrases and geographies. This allows brands to reach highly segmented audiences based on any number of nuanced characteristics.
Among the key benefits of this hyper-specific targeting is that paid social advertising allows marketers to reach verticals that have a high cost per click (CPC) in search more cost effectively via Facebook. This is because you're not competing directly with other brands for keywords, but rather are going after a set of specific audience characteristics—meaning it's less likely that you'll end up in a bidding war. Moreover, you can generally overcome a high CPC on social media by refining your targeting.
Reach customers early in the sales cycle: Another benefit of social paid media is that it enables brands to reach audiences early in the marketing funnel and move these potential customers toward purchase.
Because most social media ads display directly inside people's news feeds, marketers can message users who may not immediately need a product or service and who are not searching by topic or brand name. By serving compelling ads based on well-defined targeting criteria, you can consistently reach these audiences and insert yourself top-of-mind as they begin the research and evaluation process.
Highlight content and spark discussion: Creating content and attempting to discuss topics with your community is great, but it's only worth it if audiences actually engage. That's where paid social can be invaluable.
Social platforms such as Facebook are excellent for paid amplification, allowing marketers to distribute content assets and to drive traffic to their own sites (which is especially useful if you have lead gen landing pages). Paid social ads can also be used effectively to spark discussion and reaction from users around a topic or product/service.
Present big, beautiful messages dynamically: Google's PPC search ads have been evolving steadily over the past decade, slowly incorporating things like click-to-call buttons. Still, they fundamentally remain small, text-based units that tend to always display in certain positions in search results.
In contrast, paid social units can be much larger, more dynamic, colorful, and varied. Most platforms allow marketers to incorporate images and video, and allow for much more text to be included than in search ads.
Paid Search
Reach audiences looking for a specific product, service, or brand: While the keyword-based approach of paid search doesn't allow for the same level of micro-audience targeting as paid social, it does provide several key advantages beyond the ability to reach people looking for specific terms, right now.
Keyword matching options, for example, enable advertisers to reach consumers utilizing short, mid, and long tail keyword variations. This provides an unrivaled opportunity to serve ads that are highly relevant and tailored to a consumer's intent. The "search terms" reporting associated with clicks acquired also provides a clear indication of which language patterns support conversion—providing clear attribution and ROAS (return on ad spend).
Paid search also provides the opportunity to serve ads that drive action, in addition to building awareness. Google AdWords Ad Extensions, for example, support "click to call" functionality, deliver address/driving directions, and provide the opportunity to serve sitelinks to various assets within an advertiser's domain. These highly customizable and prominent ads within competitive SERPs help to reinforce brand credibility and acquire new customers.
Put simply, if an advertiser's goal is to reach a consumer who's in the midst of a keyword-based search—say for a specific product name, service type, or brand—a product like Google AdWords can be far more effective than paid social at converting these searchers to tangible ROI.
Engage consumers with a high intent to purchase: Just as paid social is most effective at building "top of mind" awareness and engaging prospective customers at the top of the sales funnel, paid search is incredibly effective at converting customers in the mid and bottom portions of the sales funnel.
Paid search ads allow you to target audiences who are motivated to take action immediately. When a consumer uses a commercial query or phrase with "intent," the likelihood of that consumer making a purchase or becoming a lead is significantly higher than a casual browsing session within Facebook.
With paid search, when a consumer is showing intent for a product or service, you can target keywords that have a history of converting new business. In contrast, when using social media advertising, you're more likely to target based on the characteristics of the user (demographics, psychographics) and will need the ad itself to incentivize the audience to pay attention and take action. This advantage applies across all verticals, but is especially important for e-commerce, since paid search ads complement Google Shopping (the fastest growing e-commerce search-based advertising product).
Position products/services against competitors: Many brands are vying for attention against a few key competitors or a major player in their space that audiences tend to be aware of. In these situations, advertising via PPC search ads is extremely useful.
By positioning your products or services in search results underneath—or even on top of—similar brands, you have the opportunity to influence a consumer's actions. With a unique value proposition or offer, properly emphasized through search network Ad Extensions, it's possible to improve brand credibility, occupy more real estate on the SERP itself, and siphon clicks/sales away from rivals.
Stand out in competitive local markets: One of the things that differentiates paid search from paid social is that it's one of the first places people go to find local products and services. Search advertising networks such as Google AdWords is a key asset for local businesses to utilize. Local PPC campaigns can support strong foot traffic at brick-and-mortar retail stores, restaurants, or service-based businesses (by providing immediate access to location information), and can also generate phone calls through "click to call" ads within local search results.
Between the ubiquity of Google and the tight integrations of results into digital maps products, search has become the most important platform for local businesses to use to engage their consumers. If you want to be found, and to compete with other products/services in a specific region, it's essential to invest in paid search on some level.
So, once you've got a handle on some of the main strengths of paid social vs. paid search, how do you determine which your business should use?
First, begin by stepping back and asking yourself a set of questions about your goals and market. Are you looking to reach consumers early in the sales funnel, or late? Do you want to promote content, or an immediate sale? Are you focused on niche audiences with certain interests, or people searching for specific things?
Tackling these questions will provide much more clarity, but it won't solve the problem. To truly know which channel to use, you'll need to do a proper return on investment (ROI) analysis.
Unfortunately, there aren't any industry-standard ROI patterns that are available to showcase the true impact of each channel. The ROI of paid social vs. paid search varies from brand to brand based on goals, audiences, industry, location, and a myriad of other factors.
However, with proper structuring (and often some help) it's possible to see the ROI of your digital marketing spend. For example, you can measure the results of paid social media by setting up your analytics properly, with goals assigned for each ad. Similarly, you can determine the effectiveness of your Google PPC Ads by tracking everything from initial click-to-calls to final purchase.
With this sort of data in hand, you'll be able to determine which platforms are helping most with your various goals. This idea goes beyond simply paid social and search; it also applies to other channels such as display network advertising and even offline media.
An essential thing to keep in mind, especially when it comes to paid social and paid search, is that you don't have to pick one or the other. In fact, a hybrid approach works best for most businesses, since each medium has its own unique benefits.
Ultimately, both paid social and paid search have huge advantages for brands. Each is a quick-to-market solution that can help achieve your marketing goals almost immediately. Plus, a beautiful thing about both is that they are endlessly measurable; with the right setup, you can track what's working and what isn't, and then refine the mix to achieve exactly what you want.
Discover the advantages of paid social and paid search advertising for your brand. Contact MDG today at 561-338-7797 or visit www.mdgsolutions.com.
MDG, a full-service advertising agency with offices in Boca Raton and New York, NY, is one of Florida's top branding firms. MDG's capabilities include print advertising, direct mail marketing, branding, logo design, creative, media buying and planning, radio and TV advertising, outdoor, newspaper, digital marketing, website design and development, online video advertising, infographic development, email marketing, video marketing, mobile marketing, content marketing, social media marketing, paid search marketing, and SEO. To learn about the latest trends in advertising and branding, contact MDG today at 561-338-7797 or visit www.mdgsolutions.com.