Facebook Goes to Work at the Office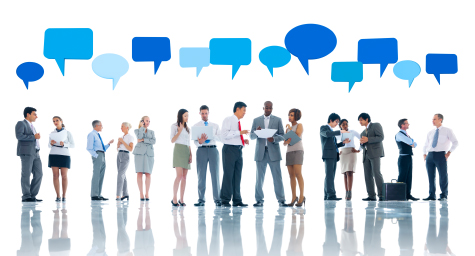 As recently reported, Facebook has been working on the launch of a new workplace product aimed at the enterprise market. The product that looks and acts just like Facebook, lets businesses create their own social media networks for employees. According to TechCrunch, "Facebook at Work," the website version, and "Work," the app for Android and iOS, officially launched last week.
Initially aimed at companies with 100 or more employees, Facebook at Work allows staff to collaborate using the same familiar interface they use to connect with their social contacts.
It's basically the same product that Facebook employees, including Mark Zuckerberg, have used to communicate with each other for the past decade.
Many other details, however, have yet to be confirmed. Pricing, for example, is still undecided. Facebook may offer the product for free, hoping to drive more users to its broader network. And although the product isn't currently set up for advertising, it's possible that a tiered system might eventually give companies the option of getting a paid-for, but ad-free version versus a free version served with ads.
How it works
In terms of how the product works, Facebook has yet to offer a demo. The way the company explains things, employees will be given the option of whether to link their personal and professional accounts. Even if an employee chooses to link the two, there's no risk of a user's inappropriate personal photos making their way onto the professional side of things.
Lars Rasmussen, who heads the Facebook project, promises, "Even if the employee chooses to link, there is no crossover. The content stays entirely within your personal or work Facebook."
Although the work product has been introduced with document sharing, there's currently no option for editing within the app. This may change in the future.
Facebook's success strategy
Rasmussen hopes that the lessons he learned in his effort to launch a similar product at Google will help smooth the introduction of the Facebook entry. "I can say that the challenge of making work more efficient is something that has been on my mind for a long time, and I come to it with a lot of passion and the knowledge of a failure of doing this at a different company."
So what makes this new Facebook offering different from similar products like SocialCast and Microsoft's Yammer? Although Facebook at Work is not the first to enter the enterprise category, it's the first to employ the feedback gained from more than one billion active users.
Tap into the latest in social media. Contact MDG today at 561-338-7797 or visit www.mdgsolutions.com.
MDG, a full-service advertising agency with offices in Boca Raton and New York, NY, is one of Florida's top branding firms. MDG's capabilities include print advertising, direct mail marketing, branding, logo design, creative, digital marketing, media buying and planning, radio and TV advertising, Web design and development, online video advertising, infographic development, email marketing, mobile marketing, content marketing, social media marketing, paid search marketing, and SEO. To learn about the latest trends in advertising and branding, contact MDG today at 561-338-7797 or visit www.mdgsolutions.com.