Facebook is Right on the Money with Right-Hand Rail Redesign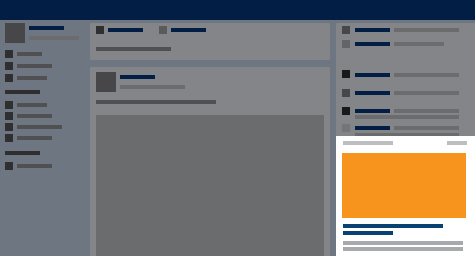 Facebook is making news with the redesign of its right-hand rail that will make the section's ads appear strikingly similar to sponsored News Feed posts. The side area's photos will be nearly twice the size for a more engaging and follower-friendly look. This right-hand rail real estate had long faced secondary status because it commanded much lower ad rates than the mobile News Feed. With Facebook charging $5.72 per every thousand impressions in the mobile News Feed, compared to the mere 20 cents per thousand for right-hand rail ads, it's no wonder the right rail got left behind. But by revamping the right-hand rail to have much more curb appeal, rates for this now bolder and brighter ad space look likely to rise. Adweek.com explained how this rail renovation is right on track with advertisers' demand to stand out.
This redesigned right-hand rail will be rolled out to Facebook users over the next few months. Yet the new ad format is already getting great results and proving to be up to three times more effective in early tests.
As always, there's a method behind Facebook's ad changes. This larger layout will give advertisers a much bigger and better creative canvas to display their marketing messages, which could make this ad option much more desirable. And by enlarging the right-rail photos, there will be less space available and ultimately fewer ads. The combination of more desirability and less availability means that there may be much more competition for this space among advertisers.
Facebook emphasized that the digital dimensions of the right-hand rail ads will now resemble those for News Feed ads, so advertisers will have the added convenience of only uploading one ad file for both places.
The right-hand rail revamp has arrived at just the right time. Brands are rushing to react to platform changes that resulted in lower audience reach from unpaid posts. This is leading brands to pay a premium to compensate for that reduction in reach.
With this new-and-improved look for Facebook's right-rail ads, brands can get right back in front of audiences and avoid behind left behind.
Discover the secrets of social media marketing. Contact MDG today at 561-338-7797 or visit www.mdgsolutions.com.
MDG is a full-service advertising agency and one of Florida's top branding firms. With offices in Boca Raton and New York City, MDG's core capabilities include branding, logo design, print advertising, digital marketing, mobile advertising, email marketing, media planning and buying, TV and radio, outdoor advertising, newspaper, video marketing, Web design and development, content marketing, social media marketing, and SEO. To discover the latest trends in advertising and branding, contact MDG today at 561-338-7797.