Facebook Messenger App Adds a Personal Connection to Online Shopping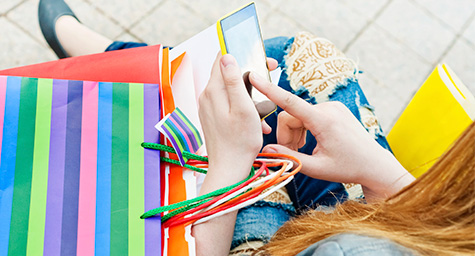 What's the big deal about Facebook's new Messenger Business app? The way it will let customers deal directly with businesses. Just as Messenger allows friends to talk online, Messenger Business will provide this personal connection between customers and companies. It will let shoppers chat and check with sellers about every stage of an online purchase. Messenger Business was only one of two new features just announced at Facebook's annual F8 developer conference. The other was Messenger Platform, which will provide developers with a platform for letting people install their apps and use in their Messenger conversations. PCMag.com posted more about both of these new features, but below is a closer look at what the Business Messenger app will offer to buyers and businesses.
Benefits for Businesses
Along with bringing companies closer to customers, Facebook's new Messenger app will increase the ease and efficiency of online and mobile shopping for sellers. Other business advantages include:
The ability to deliver push notifications to customers directly through Messenger.
More customer satisfaction by giving shoppers a more personal purchase experience, along with the ease to manage and change orders directly, and fewer email interruptions about order status.
Greater business efficiency by allowing customers to make changes to orders before they are sent, which will reduce returns and decrease customer service outlay.
Convenience for Customers
With today's consumers craving more personalized service, Messenger Business will respond to that need by bringing a personal touch and tone to online and mobile shopping. It will give Internet buying a friendlier format by letting shoppers chat and interact with sellers from shopping through shipping. It will also give consumers a greater sense of control throughout the purchase process. With Messenger Business, shoppers will receive:
The option at checkout to connect to Messenger Business and have details about a recent order only sent there.
The ease of chatting with a company's customer service department as easily as they could with a friend online. This will provide a more personal experience than filling out website contact forms or waiting for days for customer service replies.
The convenience of both sending to and receiving private messages from companies to track packages, receive receipts, change orders, make reservations, and manage all general customer service issues.
A streamlined shopping process by having a single Messenger chat thread for all of the information involved in a transaction, from shipping notifications to customer service interactions. This will spare customers from having their inboxes filled with numerous emails about a single shipment.
Facebook has currently extended use of the app to a small number of companies, such as Everlane and zulily, but plans to roll out the feature to more businesses in the very near future.
Keep up with the status of social media marketing. Contact MDG today at 561-338-7797 or visit www.mdgsolutions.com.
MDG is a full-service advertising agency and one of Florida's top branding firms. With offices in Boca Raton and New York City, MDG's core capabilities include branding, logo design, print advertising, digital marketing, mobile marketing, email marketing, media planning and buying, TV and radio, outdoor advertising, newspaper, video marketing, website design and development, content marketing, mobile marketing, social media marketing, and SEO. To discover the latest trends in branding and advertising, contact MDG today at 561-338-7797.