Facebook More Memorable Than Faces or Books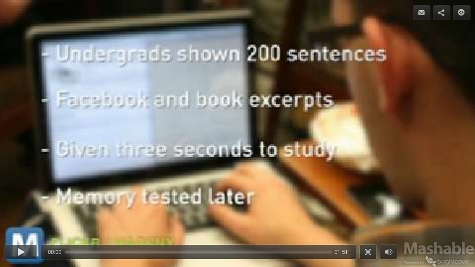 It looks like Facebook makes a memorable impression, according to a recent study that revealed how Facebook posts and reader comments are more likely to be remembered than human faces or sentences in books. This study by the University of California, San Diego and the University of Warwick specifically showed that Facebook status updates are two-and-a-half times more memorable than actual faces and one-and-a-half times more ingrained than sentences on the printed page. Mashable.com reported on why social media has such strong staying power.
Some psychologists attribute this indelible quality to the spontaneous, simple style of social media commentary that's so similar to natural language. The mind readily understands this casual tone, which makes it so much easier to process and retain. In addition, shared information is perceived as more privileged and important, which makes it more likely to be remembered.
For the study, participants were shown 200 anonymous Facebook posts and comments free of emoticons and other distractions. Then, they were shown pictures of faces and various sentences from books. The Facebook posts and comments turned out to be much more memorable. Participants were also shown both real-life news headlines and reader commentary, with the comments proving to be more memorable than the actual news.
Now, the researchers from this study have set their sights on the effect of microblogs on human memory, with similar results applying to texts and tweets.
To learn more about integrating Facebook into your social media marketing strategy, contact MDG.
MDG, a full-service advertising agency with offices in Boca Raton and New York, NY, is one of Florida's top integrated marketing agencies. Our 360° approach uses just the right mix of traditional and digital marketing to reach your advertising goals. While some industries may fare better in print and others online, we strive to create a balanced approach, where traditional, digital, and social media marketing efforts support each other and your message is tailored to the medium. To stay on top of the latest Facebook trends and what's new in social media marketing, contact MDG.
Read more at Mashable.com.