Facebook Testing New Way to Ease and Increase Mobile Link Sharing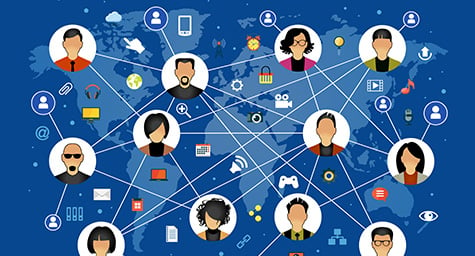 Sharing mobile links has long been a multi-step process, but now Facebook is experimenting with an in-app keyword search engine that would let mobile users quickly find articles, websites, and other content to attach to their status updates. This feature would speed and simply mobile link sharing for users, which would likely lead to an increase in link sharing. As a result, the brands and companies that post content and advertise on Facebook would have more opportunities for their postings to be shared, which could greatly increase their web traffic, sales and overall reach by the power of friendly referral. TechCrunch.com reported on this potential Facebook feature that would make mobile sharing a quick click away.
Facts on This Feature
Facebook is currently testing this in-app keyword search among a small group of iOS users in the U.S. For this testing phase, these users are seeing a new "Add a Link" option beside the buttons to add photos or locations. To use this "Add a Link" button, mobile users simply type in a search query and Facebook will respond with a list of matching links they may want to share. The results appear to be sorted by the sites shared the most, with recently published content given priority. Users can preview the content on those sites and then tap the one they want to share, which adds it to their status with a caption or share statement.
Benefits for Brands, Companies, and Publishers
This new in-app keyword search engine option offers many advantages to those who post branded content and ads on Facebook, such as:
Driving mobile users to share more of the news and content that brands, companies, and publishers post on Facebook.
Significantly boosting the amount of inbound website referral traffic that these content providers generate.
Increasing the reach, sales, and brand awareness of these content providers among more mobile consumers.
Improving the brand perception of these content providers because the links were recommended by friends and trusted sources.
Increasing the amount of time that users spend on Facebook due to easier mobile link sharing, which would provide advertisers with more exposure.
Fringe Benefits for Facebook
By making mobile link sharing simpler, it is likely to increase the amount of overall sharing. This would provide Facebook with more personal data about the users and companies that appeal to each consumer and their friends based on their mobile shares and likes. Plus, it could potentially increase the amount of time spent on Facebook, which would lead to greater exposure for advertisers and the potential for higher ad revenue.
With the popularity of both mobile and Facebook, this new feature could ease and expedite link sharing for users, while enhancing the value of Facebook to the brands and businesses using it.
Learn about the latest on social media marketing. Contact MDG today at 561-338-7797 or visit www.mdgsolutions.com.
MDG is a full-service advertising agency and one of Florida's top branding firms. With offices in Boca Raton and New York City, MDG's core capabilities include branding, logo design, print advertising, digital marketing, mobile marketing, email marketing, media planning and buying, TV and radio, outdoor advertising, newspaper, video marketing, website design and development, content marketing, mobile marketing, social media marketing, and SEO. To discover the latest trends in branding and advertising, contact MDG today at 561-338-7797.