Facebook's App-Install Ads Are Its Top Connection to Revenue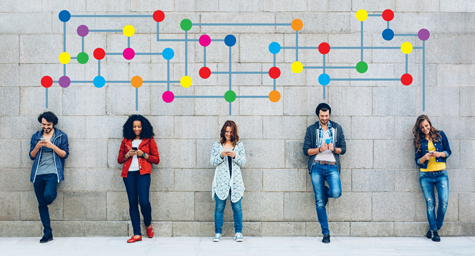 Facebook has mobile app marketing in the palm of its hand. According to recent research from Citi, the social media leader has become the largest platform for mobile app marketing. The social network's mobile app marketing mastery was shown in Citi's prediction that 1.15 billion apps would be downloaded through marketing on Facebook channels in 2016. These channels include Facebook, Instagram, Facebook Messenger, and WhatsApp. BusinessInsider.com offered a closer look at Facebook's hold on the mobile app marketing market.
Facebook is receiving so much mobile app-marketing revenue for a couple of reasons. Primarily, the main mobile app stores operated by Apple and Google haven't been as focused on enabling consumers to discover new apps. Yet recent upgrades by both of these stores should encourage new app discovery. For example, Apple just introduced its own mobile app-install ads.
Another reason why Facebook is at the forefront of the mobile app market could also be due to slower growth of the smartphone market, which leaves fewer new consumers to target.
To demonstrate why mobile app marketing is so popular on Facebook, Citi research revealed the following stunning statistics:
Facebook is estimated to generate more than 4 billion cumulative mobile app downloads by 2017.
In 2015, Facebook's mobile-app-install advertising reached $2.9 billion and comprised 17% of Facebook's total ad revenue that year.
In comparison, the total U.S. mobile app-install ad revenue in 2015 was approximately $4.6 billion.
The average smartphone user downloaded .35 apps via Facebook in 2015.
$3.40 is the average price for a Facebook mobile app download.
Looking forward, Citi predicts that Facebook's success with mobile apps will continue to grow through 2017.
Keep up with all of the updates in social media marketing. Contact MDG.
MDG, a full-service advertising agency with offices in Boca Raton and New York, NY, is one of Florida's top branding firms. MDG's capabilities include print advertising, direct mail marketing, branding, logo design, creative, media buying and planning, radio and TV advertising, outdoor, newspaper, digital marketing, website design and development, online video advertising, infographic development, email marketing, video marketing, mobile marketing, content marketing, social media marketing, paid search marketing, and SEO. To learn about the latest trends in advertising and branding, contact MDG.