Facebook's Social Olympics Ambition, Explore London 2012: A Dedicated Athlete Portal with No Ads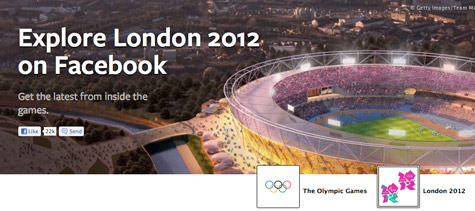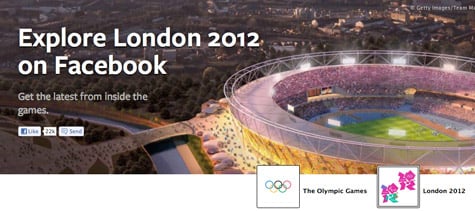 For Olympics fans who can't personally experience the London games, Facebook is enabling them to explore them virtually. The social media network is launching Explore London 2012, a special page that lets fans follow and communicate with athletes. The page will feature personal highlights, photographs, and status updates directly from the athletes. Facebook will also include historical facts about the games and coverage of the latest happenings from the globally watched event. TechCrunch.com reported on how Facebook is striving to make this the first of many truly Social Olympics.
Interestingly, Facebook is not planning to place advertising anywhere near the site. The lack of ads on the dedicated site is due to the strict guidelines established by the Olympics committee. Yet this does not mean that Facebook is not working closely with brands and advertisers to share the Olympics experience in other ways. In fact, many media companies and broadcasters are incorporating Facebook into their own Olympics sites to add a social media element to the global experience. These additional promotions are just not being featured on Facebook's official Explore London 2012 site.
"We will follow the athletes' stories for the next 17 days," said Joanna Shields, Facebook's international head, who explained how an array of personal perspectives can enhance the overall viewing experience. "It's that discovery through friends that makes things interesting and makes you want to click on media. We want to bring discovery to the Olympics."
Social media was introduced to the Olympics at the Vancouver games. In only a few days, the event's "friend" count soared to one million. This demonstrated the strength of social media back then and helped to persuade organizers to include it in this year's event. This marks an evolution in the way that the Olympics are becoming more social media and viewer-oriented, as opposed to being driven by the multimillion-dollar commercial interests of broadcasters.
While only 250 of the more than 10,000 participating athletes are already on Facebook, the network expects to attract many more as the games approach and the buzz builds surrounding the social collaboration.
Of course, social media at the Olympics will not be exclusive to Facebook. There will be numerous collaborations with social media networks, including a branded page on Twitter, special portals on Google+, initiatives with Instagram and Tumblr, a Foursquare check-in project, and other smaller social tie-ins worldwide.
One of the greatest benefits of the Facebook initiative is that it allows for greater coverage of all of the events. With literally hundreds of events, the media often covers only the most popular ones or the highlights of the day. Now, the smaller stories and less-publicized athletes will have a forum of friendly fans.
"These are stories that were not headline-worthy and may not have reached the public, but the real stories from the athletes themselves are the interesting ones," added Ms. Shields.
To learn more about incorporating social media into your company's online marketing strategy, contact MDG today at 561-338-7797 or visit www.mdgsolutions.com.
MDG, a full-service Florida advertising firm with offices in Boca Raton and New York, NY, specializes in developing targeted Internet marketing solutions, exceptional creative executions and solid branding and media buying strategies that give clients a competitive advantage. Our core capabilities include branding, logo design, creative, digital marketing, mobile marketing, print advertising, direct mail marketing, media planning and buying, TV and radio, video, Web design and development, email marketing, social media marketing and SEO.
Read more at Techcrunch.com.