Fiat's "Motherhood" Online Video Ad Gets Mixed Reaction as It Goes Viral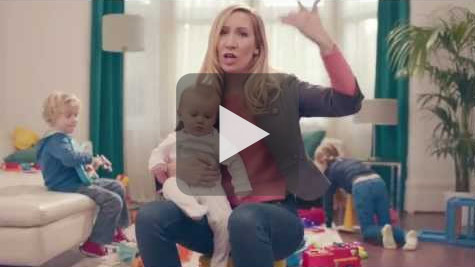 The Italian automaker recently created a three-minute online video ad on YouTube featuring a British mother rapping about the realities of motherhood as her children grooved to the beat in the background. The video ad has received almost three million views since it was posted in December, yet the comments have ranged from complimentary to critical. TheGlobeandMail.com reported on how Fiat has used a hip, humorous tone to target an audience of modern-day moms.
The online video's caption drives home the sassy satire by stating how the automaker is committed to those women who manage to do it all and 'live large' every day.
"We wanted to connect with our target audience, starting with dynamic young moms, in a way that demonstrated our understanding of the challenges they face balancing motherhood with their desire to keep hold of their pre-children identity," explained Fiat's marketing director. The brand hopes that giving a clever spin to the realities of motherhood will resonate with moms and tempt them to discover how the new Fiat could add some much-needed glamour to their daily lives.
Most commenters have had a positive reaction to the video ad and expressed how they enjoyed the humor and fun of it. Still, other viewers took offense for three reasons. First, some objected to how the video ad plays up the stereotype of parents trying to be too cool. Others balked at how it seemingly demeans the important role of parents in nurturing precious young lives. Finally, most mentioned that such a small car could never fit a full family, especially with all of their baby gear.
Despite the critics, or perhaps thanks to them, the online video ad has continued to be extremely popular and has garnered Fiat great attention from the audience of moms it was created to charm.
To integrate online video ads into your digital marketing strategy, contact MDG.

MDG, a full-service advertising agency with offices in Boca Raton and New York, NY, is one of Florida's top video marketing agencies. Our 360° approach uses just the right mix of traditional and digital marketing to reach your advertising goals. While some industries may fare better in print and others online, we strive to create a balanced approach, where traditional and digital marketing efforts support each other and your message is tailored to the medium. To learn more about the latest trends in marketing and advertising, contact MDG.
Read more at Theglobeandmail.com.