Five Mobile Email Trends to Watch This Holiday Season [Infographic]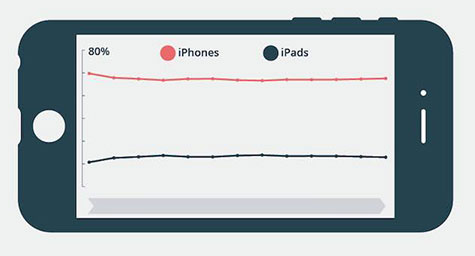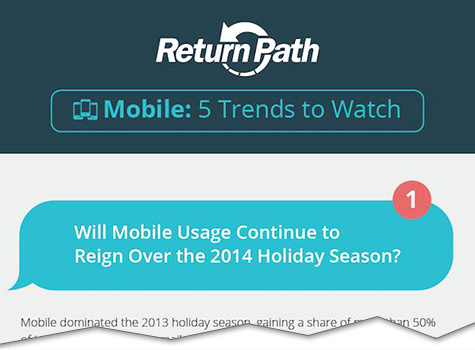 During the holidays, brands spend more time and money trying to get shoppers to spend more time money on their brands. One of their favorite tactics this time of year is mobile email marketing. In fact, mobile email completely wrapped up the 2013 holiday season, gaining a share of more than 50% of total email opens. But that gift didn't keep on giving as the mobile email open rate dropped to a new low in the new year. So now that we're at the height of the holiday season and mobile email open rates are expected to rise higher, marketers are watching and waiting to see what the holidays will bring them. Luckily, a recent report from Return Path offered insight into this season's trends in mobile email. The report examined data from 16 billion email opens between October 2013 and December 2014. Return Path placed the data into a fact-filled infographic featured on MarketingProfs.com, and here are the highlights of the season's top trends in mobile email marketing:
[jump]
1. Mobile Usage Has a Bright Outlook
Mobile email opens may have dropped with the ball in Times Square, but it rebounded to 49% in November 2014, which was just below last year's record rate.
2. Certain Days Dazzle for Email Opens
November 30, which is the day before Cyber Monday, had the second-highest email open rate as early shoppers checked their emails for specials.
In both 2013 and 2014, most emails were opened on December 1st, which is Cyber Monday. Desktops were used most often since shoppers tended to be at work.
62% of all email opens occurred on mobile devices on Christmas Day 2013.
3. iPads Deliver Email Opens
Since iPads continue to comprise more than 20% of email opens on iOS devices, marketers must optimize their emails for tablets in order to rein in these customers.
4. The World Shops in a World of Ways
The United Kingdom makes up 60% of mobile email opens, making these residents the most mobile-minded.
Americans have a 48% mobile email open rate and are most likely to check email on their smartphones.
Australia reports a 47% mobile email open rate, with 39% opting to read their emails on their iPads.
5. Apparel Shines with the Highest Mobile Email Open Rate
Apparel brands have an almost 60% mobile open rate during the holidays, which is attributed to shoppers seeking festive apparel to wear to parties or to give as gifts.
Banks wrap up a 51% email open rate, which makes sense since shoppers are money-minded during the holiday season.
Media & entertainment report the lowest email open rate, perhaps because people are too busy to engage in entertainment.
Unwrap all of the mobile email trends in this festive infographic:

Infographic by Return Path.
Maximize your mobile email marketing. Contact MDG today at 561-338-7797 or visit www.mdgsolutions.com.
MDG is a full-service advertising agency and one of Florida's top branding firms. With offices in Boca Raton and New York City, MDG's core capabilities include branding, logo design, print advertising, digital marketing, mobile marketing, email marketing, media planning and buying, TV and radio, outdoor advertising, newspaper, video marketing, Web design and development, content marketing, mobile marketing, social media marketing, and SEO. To discover the latest trends in branding and advertising, contact MDG today at 561-338-7797 or visit www.mdgsolutions.com.