Flipboard Makes It Fun to Create Catalog for Browsing and Buying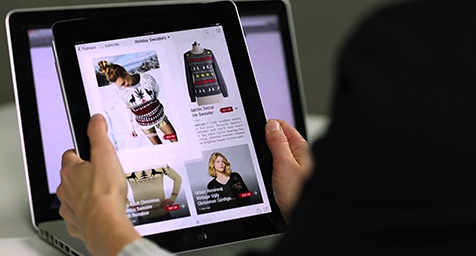 After turning the page in tablet magazine publishing, Flipboard has issued a new feature that lets users create their own catalogs and then opt to shop from their custom creations. This is the latest evolution of the personalized magazine app, which recently allowed users to curate their own magazines. But Flipboard wasn't content with just magazine curation and has expanded the digital publishing service to catalog creation. VentureBeat.com displayed the details on this new catalog feature that makes personalized, digital publishing a snap with a click.
The beauty of Flipboard is that it presents articles, images, photos, and design elements as attractive and clean full-screen layouts on digital devices like tablets and smartphones. The service brings the glossy allure of print magazines to today's mobile-minded magazine market. And since catalogs are merely magazines that feature products from brands, the format is well suited to catalog creation. The new "Flip.it" browser button makes it easy to add Web pages and price tags to catalog creations with one quick click. And similar buttons let users add content from other services, like Pinterest and StumbleUpon. The option to shop the products on the pages was added at the request of users who wanted a more valuable virtual catalog experience.
While the new catalog feature is designed to be enticing to users, it's also expected to be exciting to retailers for its exceptional e-commerce potential. Flipboard has already launched many catalogs by major brands, including Banana Republic, Levi Strauss, eBay, ModCloth, and Birchbox. Along with these big brands, celebrities are catching on to this catalog craze and creating catalogs of their own filled with all of their favorite finds. And the Flipboard staff is on the same page with the 12 catalogs they've created on fashion, electronics, toys, and more.
The launch of this new catalog feature is perfectly timed for the busy holiday shopping season. Flipboard expects more brands to contribute catalogs by the height of the holiday season, and up to 20 more brands to create catalogs of their own by early next year.
By expanding into catalog creation, Flipboard has a new path to profits in the form of advertising revenue. After all, brands that create catalogs on Flipboard can drive readers to these catalogs by promoting them with full-page ads in publisher sections. Ads in these special sections can cost 10 times as much as traditional Web banner ads.
In the future, Flipboard may pursue more revenue by collecting affiliate fees for new customers or splitting profits with successful curators. For now, Flipboard's catalog service is free and there is no affiliate marketing involved.
According Fortune.com, Flipboard's foray into personalized digital publishing could further blur the lines between magazines and catalogs. Magazines have traditionally focused on content while catalogs have featured products, but catalogs have added much more content in recent years to be more compelling and creative. Now with Flipboard's new catalog feature, anyone from name brand to novice can combine all kinds of content to their heart's content.
Check out what's making news in digital publishing. Contact MDG.
MDG, a full-service advertising agency with offices in Boca Raton and New York, NY, is one of Florida's top creative ad agencies. Our 360° integrated approach uses just the right mix of traditional and digital marketing to reach your advertising goals. MDG's core capabilities include award-winning print advertising, branding, logo design, creative, digital marketing, media planning and buying, radio and TV advertising, outdoor advertising, Web design and development, email marketing, social media marketing, and SEO. To stay on top of the latest trends in marketing and advertising, contact MDG. For the latest developments in on-demand printing and digital publishing, take a look at "Modern Magazine Machines May Herald A New Print Revolution."