Florida Regional Center Receives USCIS Approval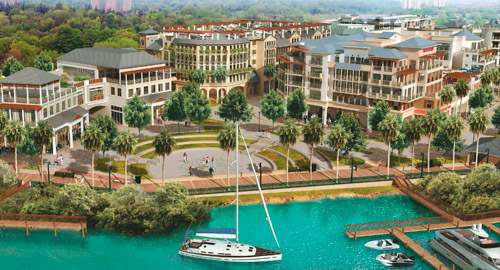 Decision Green Lights Overseas Investment Opportunities in Harbourside Place, Jupiter, FL Development Project
Palm Beach County, FL– Florida Regional Center, the U. S. government-approved agency that provides investment opportunities in Florida real estate development projects for foreign nationals through the U.S. government EB-5 Visa Program, has been given full approval as a designated regional center by the United States Citizenship and Immigration Services (USCIS). The approval gives the green light to the agency's Harbourside Place development project in Jupiter, Florida.
Nicholas A. Mastroianni II, President, Florida Regional Center said, "Not only is this a major milestone for the Florida Regional Center and Harbourside Place, but it is a life raft for Palm Beach County and the Town of Jupiter; the economic stimulus this will bring to the area is a necessity. We have been promoting this project for months and we can now begin to file I-526 applications for interested foreign investors."
Harbourside Place features an entertainment plaza and outdoor amphitheatre, retail space, restaurants and eateries, office sites, hotel accommodations and marina. This full-scale development encompasses a thrilling range of opportunities for business, visitors and residents.
About Florida Regional Center and the EB-5 Visa Program
Each year, the U.S. government reserves 3,000 green cards for foreign investors who invest in designated regional centers through the EB-5 Visa Program. These initiatives enjoy full government support as they stimulate the economy, generate at least ten jobs per investment, and promote community development while providing direct access to green cards for foreign investors and their families.
The Florida Regional Center will bring the benefits of the EB-5 Visa Program to the business community of Palm Beach County. Regional center projects must be approved by the U.S. government and the main criteria is that each investor's contribution will create ten sustainable jobs for U.S. workers in a designated geographical region.
For more information on Harbourside Place and other Florida Regional Center projects, visit www.flregionalcenter.com
MDG handles all creative, marketing, advertising, collateral design and Web development for the Florida Regional Center.
Michael Del Gigante is president and executive creative director of MDG in Boca Raton, Florida. MDG is a full-service advertising agency, with offices in Florida and New York, that specializes in developing targeted internet solutions, exceptional creative executions, and solid branding and media buying strategies that give clients a real competitive advantage. For more information, call 561-338-7797 or log on to www.mdgsolutions.com