Foursquare Testing Paid Promotions with Small Businesses in New York City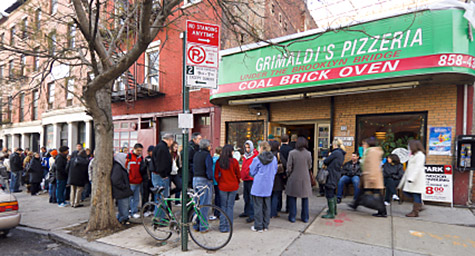 Foursquare gained fame as a location-based mobile app that let customers endorse the businesses and restaurants they preferred, but now the company is letting some of its local merchants promote themselves. While such promoted listings had previously been limited to large national businesses such as RadioShack and KFC, this promotional privilege is now being extended to a few local businesses in New York City and marks the first time that the company has generated revenue from small businesses. AdAge.com reported on Foursquare's entry into the rapidly growing local mobile ad market.
According to Foursquare CRO Steven Rosenblatt, the company is first experimenting with promoted listings for only a few New York City merchants to make sure that small businesses understand how to best use the promotional service before rolling it out later this summer. They hope this gradual rollout will make small merchants more comfortable with digital marketing since a recent survey by Boston Consulting Group has shown that small businesses only allot 3 percent of their marketing budgets to digital, which is 12 percentage points lower than the national average.
While Foursquare had previously only let small businesses advertise by offering deals to users after they had checked-in, now these merchants can promote positive reviews, appealing photos, or basic listings to all local consumers.
The small businesses involved in the experiment are targeting Foursquare users by their locations, check-in histories, and personal preferences. Their promoted listings can appear in a user's recommendations or in the 'Explore nearby' area. These merchants can activate their Foursquare promotions at will and only pay when a user taps on a promoted listing rather than every time it's viewed.
The company's decision to extend promotional privileges to small businesses is only the second part of Fourquare's monetization strategy. A third revenue stream is also under development that would let marketers access Foursquare's abundance of data to target audience segments for other services. This third strategy is expected to be rolled out in a few months.
For now, Foursquare is focused on how small businesses respond to having more promotional opportunities, and their results will determine the rollout.
Use social media to increase your promotional opportunities. Contact MDG.
MDG is a full-service advertising agency and one of Florida's top social media marketing companies. With offices in Boca Raton, FL and New York City, MDG specializes in developing integrated 360° marketing solutions that give clients a competitive advantage. Our core capabilities include branding, logo design, digital marketing, print advertising, mobile marketing, email marketing, media planning and buying, TV and radio, outdoor marketing, online video, website design and development, content marketing, social media marketing, and search engine optimization (SEO). To stay on top of the latest trends in social media and mobile marketing, contact MDG.