Franchise Marketing: Making a Cleaning Site Shine Brighter
MDG unveils Coverall's new Web site, www.coverall.com.
Click image to enlarge.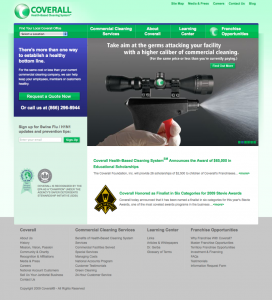 This new Web site communicates a stronger, clearer message about the benefits of Coverall's cleaning services while conveying a consistent brand image that greatly enhances their luster.
How did we clean up their act?
MDG's interactive team improved the Web site's design and functionality by:
Clearly communicating Coverall's USP and brand platform
Developing a new architecture and hierarchy of information
Re-engineering the user experience for prospective franchisees and customers
Optimizing the content for on-screen readabilty and optimal search engine friendliness
Integrating website leads with their current sales support software
Incorporating clear, strategically-placed calls to action
Ultimately, MDG provided a more satisfying online experience for Coverall's customers and franchisees, as well as a stronger Web presence and a more effective message for the Coverall Health-Based Cleaning SystemSM.
Frankly, they're swept away by the results. For a look, log on to www.coverall.com
Tim Alexander is the director of digital operations for MDG in Boca Raton, Florida, where he provides the strategic and experiential direction for our clients' interactive pursuits. For more information, call 561-338-7797 or log on to www.mdgsolutions.com