Good Humor is Driving People to Tweet @GoodHumor for Sweet Treats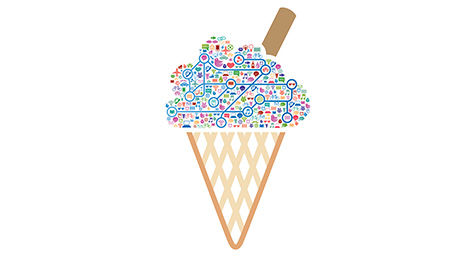 Despite its old-school image and old-fashioned ice cream trucks, Good Humor is showing it's still pretty cool with a new Twitter campaign called the "Welcome to Joyhood" tour. While it's been 40 years since its iconic trucks roamed neighborhood streets, the ice cream brand will get back on the road for a sampling tour around the Northeast. Rather than chase the trucks down streets for treats, fans can follow the brand on Twitter to find when it's in their cities, and then beckon the truck to come their way by tweeting @GoodHumor. AdAge.com shared a taste of why Good Humor is sweet on social media.
Rolling Out Trucks with a Twist
Known for its frozen novelties sold through the windows of white trucks that played the classic jingle, Good Humor is proving it's cool with the times with its "Welcome to Joyhood" tour this summer that's fueled by social media. The tour is scheduled to stop in New York City, Washington, D.C., Boston, and Philadelphia. Trucks will pass out samples of classic treats, but now will blast popular music and rock 'n' roll favorites instead of that sweet, little tune.
"It resembles the nostalgic truck of the past," said Nick Soukas, director of ice cream at Unilever, which owns Good Humor. "But it has modern nuances that bring us technologically, and also experientially, into the 21st Century."
A Window of Opportunity
The classic white trucks roamed streets until 1976, when gas prices soared and drove them off the road. Since then, the brand has only been sold in grocery stores and on the trucks of independent distributors.
While grocery sales have declined, sales from independent trucks have been a major growth driver. To leverage the growth from truck sales and the explosion of social media, Good Humor churned up this social media campaign of tweeting for treats from trucks on the street.
Get a taste of what's cool in social media. Contact MDG.
MDG, a full-service advertising agency with offices in Boca Raton and New York, NY, is one of Florida's top branding firms. MDG's core capabilities include print advertising, direct mail marketing, branding, logo design, creative, digital marketing, media planning and buying, radio and TV advertising, Web design and development, online video advertising, email marketing, content marketing, social media marketing, and SEO. To learn about the latest trends in advertising and branding, contact MDG.