Google Test Shows Paid Search Ads, Email Marketing Integration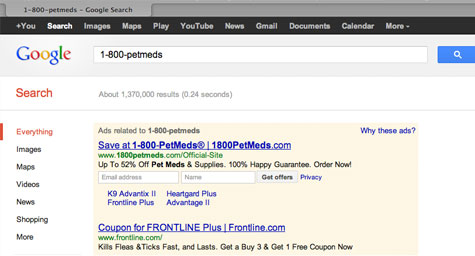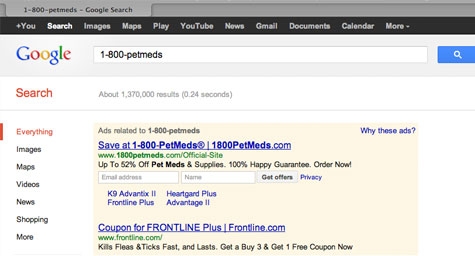 Google is currently testing a new ad format that would allow marketers to connect paid search ads to email marketing campaigns. The new ad format would enable consumers searching for certain brands to instantly register for the company's email, newsletter, and special offer lists directly from the paid search ad displayed in the search results. MediaPost.com reported on how this effort to collect email addresses could be a smart strategy for lead generation.
The new ad format is designed with a box that shows the user's Google email address when logged in to the service. A box beside the email address enables the user to enter the name of a specific brand or product. After both boxes have been filled in, simply clicking the "Get offers" button sends the user's email address straight to the advertiser. Interestingly, the "Get offers" button initially read "Subscribe to newsletter," but the change in phrase has been the result of Google's ongoing testing. It also hints at the possibility of an eventual tie-in with Google Offers or similar discount services beyond the scope of newsletters.
While the new ad format is still in the testing stage, industry analysts speculate that its success could lead to a tie-in with a user's Gmail account that would match ads displayed along the right rail of results pages with coupons sent directly to that user's email address. They also suggest it could be expanded outside the network to permit everyone using Google for search to register their email addresses, regardless of their email service.
For now, email marketers are waiting to see how testing unfolds. Still, this new ad format is just another example of Google's exciting evolution that's taking both the company and digital marketing in unimagined new directions.
MDG, a full-service Florida advertising firm with offices in Boca Raton and New York, NY, specializes in developing targeted Internet marketing solutions, exceptional creative executions and solid branding and media buying strategies that give clients a competitive advantage. Our core capabilities include branding, logo design, creative, digital marketing, print advertising, direct mail marketing, media planning and buying, TV and radio, video, Web design and development, email marketing, social media marketing, and search marketing.
To learn more about the power of paid search and email marketing, contact MDG today at 561-338-7797 or visit www.mdgsolutions.com.
Read more at MediaPost.