Google Wants to Help with Updated Healthcare Information (and get ad clicks, too)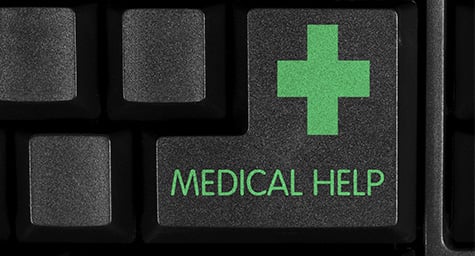 While we're not quite at the point of having an omniscient and artificially intelligent machine evaluating, diagnosing, and treating medical conditions, Google has taken another step in the direction of providing universal healthcare information by doubling the size of its health conditions database. This expansion of the already-impressive database that debuted in February 2015 is a significant event in the evolution of Google's commitment to dispelling medical myths and misnomers online.
Over the "next few weeks," Google will begin rolling out an extensive update to its search-powered medical resources, boasting verified information on more than 900 conditions, and an enhanced visual look that's designed to deliver pertinent information at a glance. The September 3 announcement indicated that users would be able to download a PDF to share with their medical practitioners—a feature many in the medical community may ultimately come to loathe in this age of self-diagnosis.
This update to the Google medical database comes at an important time in U.S. history, when more people are contracting the flu than ever before (and, consequently, more people are searching for information about flu symptoms than ever before). As access to on-demand information continues to permeate our society, search volume (incidentally) has increased profoundly as people become more adept at using the Internet to research medical symptoms, causes, treatments, and prescription medications.
For healthcare marketers, this is a significant event in the evolution of search—largely because Google is indirectly training people to rely on search as the first point of contact when medical symptoms begin to manifest. While Google's intention is to deliver trusted medical information to users, hypochondriacs will rejoice in their limitless queries about "flu like symptoms" or common ailments—which could be misconstrued as something more severe. As more people turn to Google to research common ailments or conditions, as well as the treatments that remedy them, there will be a huge opportunity for marketers to engage that audience via search network advertising. We're already seeing early examples of this from companies that understand how to engage search users who are seeking answers: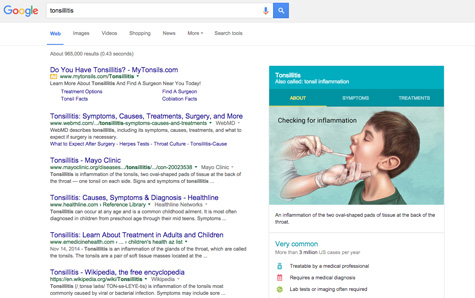 The real question will be just how much advertising Google will allow adjacent to its medical knowledge graph. For example, a query for "ear infection" returns a partial medical knowledge graph result (without the illustration), in tandem with ads that are obviously designed to earn a click: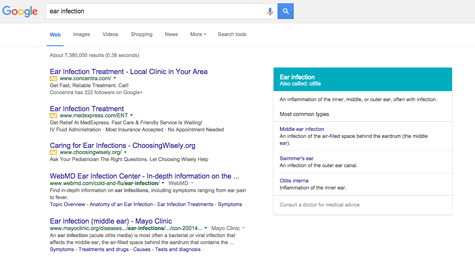 But the real heart of the matter is whether Google will allow, or even promote, advertising adjacent to medical knowledge graph results for extremely serious diseases and conditions. For example, look at the diversity in the ad real estate for a query on "atrial fibrillation":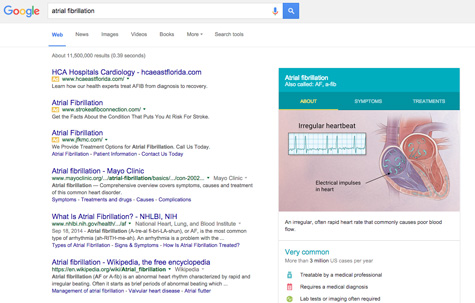 Is it ethical to allow healthcare marketers to place ads for commercial products or medical institutions adjacent to medical search results? For now, yes, and that's a major area of opportunity for medical practitioners to leverage the soon-to-be-prolific reach of the medical knowledge graph. The ability to position a search network ad next to an authoritative Google knowledge graph result builds credibility and is more likely to earn a highly engaged visitor. After all, Americans are most concerned about their health (and inclined to do something about it) when they feel something is wrong with them. Search is a typical first point of contact for individuals who are intent on self-diagnosis, which isn't always the most practical approach from the perspective of an experienced medical practitioner.
Regardless, the inclusion of the medical knowledge graph in a growing number of SERPs provides opportunities for advertisers to identify which queries garner engaged visitors. It's a safe bet that if Google is including an illustration and full suite of information on a particular medical condition or disease, that a tremendous amount of search volume exists for that particular query (and its variants). That, in its own right, is a proofing mechanism for an effective SEM strategy. Blend in some Retargeting Lists for Search Ads and you have a recipe for engaging visitors who are more than just curious— they're looking for solutions to what ails them. Whether that solution is a visit to the doctor (with Google PDF in hand) or the purchase of a specific product may very well be up to AdWords and the healthcare marketers who are smart enough to jump on the medical search engine marketing bandwagon. After all, some medical conditions are easier to treat than others: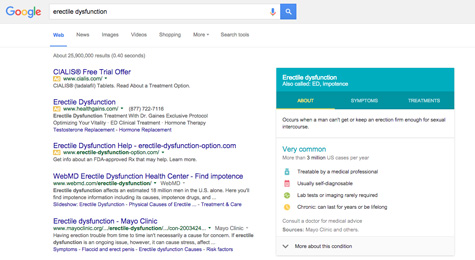 For the current generation of healthcare marketing experts, it's a matter of what Google will choose to include in its expansion of the medical knowledge graph—and whether the myriad of ad targeting restrictions Google imposes on medical products and services can be bypassed.
Check up on the latest in healthcare marketing. Contact MDG today at 561-338-7797 or visit www.mdgsolutions.com.
MDG, a full-service advertising agency with offices in Boca Raton and New York City, is one of Florida's top healthcare marketing companies and branding firms, whose healthcare clients include Dental Care Alliance, MDVIP, Max Planck Florida Institute, HCA East Florida, Primary Pharmaceuticals, and MD Now. MDG's core capabilities include branding, logo design, print advertising, digital marketing, mobile marketing, email marketing, media planning and buying, radio and TV advertising, outdoor, newspaper, video marketing, infographic development, website design and development, content marketing, social media marketing, and SEO. To learn more about the latest trends in healthcare marketing, contact MDG today at 561-338-7797.