Google's Jaw-Dropping Sponsored Post Campaign For Chrome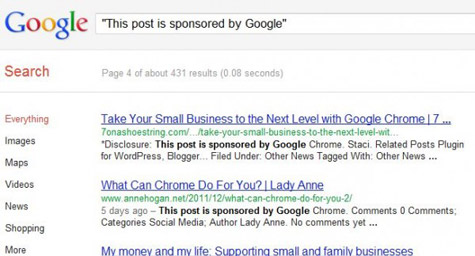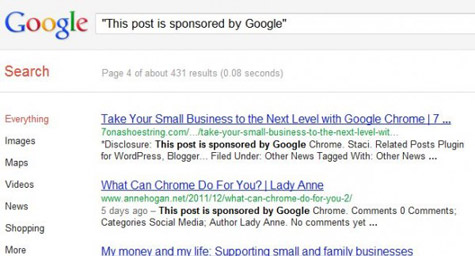 In a controversial marketing move, Google debuted a new campaign for Chrome that violates the search engine's guidelines against paid links. Google has been strict about its policy that sponsored posts may not contain live links, but this new marketing campaign boldly features Google-sponsored posts filled with these illicit links. These posts are clearly marked as being sponsored by Google, so the search engine has blatantly defied its own rules. SearchEngineLand.com reported on this highly hypocritical move.
Last year, Google penalized JC Penney, Overstock, Forbes and others for using paid links. If Google were to comply with its strict guidelines, it would have to ban its Google Chrome download page featuring those links as well. A ban would make it disappear for up to a year and draw negative attention for its scandalous initiative.
Just as problematic is the useless content of these Google-sponsored pages. In fact, the search engine designed its Panda update to penalize such "filler" content, but the Google Chrome campaign is almost completely comprised of boilerplate copy and barely-related video.
Once word spread about Google's defiant campaign, the search engine rightfully applied a penalty against itself. Google soon issued a statement that explained how they did not authorize the campaign, but had taken action to reduce the page rank value of that illicit Google Chrome page for at least 60 days. After that period if Google Chrome has fixed the problems on that page, then a representative can offer a request for reconsideration, which is the same policy required of other companies.
Google also mentioned that they were holding themselves to a higher standard and were taking stricter measures than they would against any other site. While lowering the PageRank is not the same as removing or banning the page, a lower PageRank would lower its ability to rank well for specific terms. Now, the page no longer ranks for terms such as "Chrome browser" or "Chrome" at all.
The bottom line is that Google crossed its own line and properly penalized itself. This firm action has been deemed a justified penalty by the online community, but one that may haunt Google in my future in campaigns to come.
To discover how to properly implement search marketing to enhance your marketing ROI, contact MDG.
MDG, a full-service Florida advertising agency with offices in Boca Raton and New York, NY, specializes in developing targeted Internet marketing solutions, exceptional creative executions and solid branding and media buying strategies that give clients a competitive advantage. Our core capabilities include print advertising, branding, logo design, creative, digital marketing, media planning and buying, TV and radio advertising, customer relationship management, inbound marketing programs, public relations, Web design and development, email marketing, social media marketing, local search and SEO. View MDG's creative marketing portfolio.
Read more at Searchengineland.com.