Google's Project Re:Brief—Avis's Classic "We Try Harder" Campaign Reimagined as Digital Advertising [Video]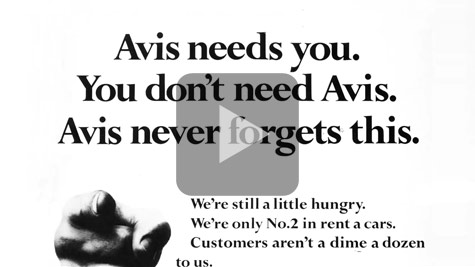 Even after almost 20 years of online advertising, the digital campaigns of today still can't compare to the brilliance of advertising's earliest years. These unforgettable campaigns were able to capture attention, forge an impression, and generate a response in ways that were truly extraordinary. In an effort to inspire today's digital thinkers to achieve such creative greatness, Google came up with a concept called "Project Re: Brief." It was based on the selection of four favorite ad campaigns from the 1960's and 1970's that would be re-imagined by their talented originators using the digital technology available today. Google believed this would support the theory that to come up with great digital advertising, you first need to come up with great advertising.
Google chose some of the most memorable campaigns for Avis, Volvo, Coca-Cola and Alka-Seltzer. Then, they tracked down the minds behind these masterpieces and gave them complete access to their platform of digital ad technology. To update Avis's 1962 "We Try Harder" campaign, Google connected with its original copywriter, Paula Green, to bring this classic favorite into the twenty-first century.
"I was concerned that technology would rule rather than the idea…but that's really not the point of advertising," said Ms. Green. "The idea is primary."
In creating the "We Try Harder" campaign, Ms. Green worked with art director, Helmut Krone, to position Avis as a company that worked harder than its competitors to please the customer. The original ads were comprised of strong copy that described how Avis went that extra mile to do more and be more than the average rental car company. Ultimately, this concept changed the company as a whole as Avis became very proud of this hard-working image. Soon, both the cars and the customers were receiving much better care, which led to a huge increase in business. After 50 years, the message of "we try harder" is still the company's tagline.
For the updated campaign, Ms. Green and Google focused on the personal rental experience that consumers have had with Avis. The ads encouraged customers to submit their real stories and have them instantly transformed into sharable animated videos. These videos could then be sent throughout the Web. To develop the videos, digital algorithms were able to analyze each story and compile a variety of visual and vocal elements into a video that told that person's unique story. With the help of targeting technology, the ads could be customized to reflect the interests of the individual, as well as the specific viewing device. In the end, the campaign maintained Avis's message of striving for customer satisfaction, yet applied modern technology to show that real stories can make a real impact.
See how Ms. Green and the Google team reworked the "We Try Harder" campaign.
MDG, one of the top online advertising firms in Florida, with offices in Boca Raton and New York, NY, specializes in developing targeted Internet marketing solutions, exceptional creative executions, and solid branding and media buying strategies that give clients a competitive advantage. If you're interested in combining great creative with today's digital technology for an impactful online advertising strategy, contact MDG.