Hallmark's Mother's Day Ads #PutYourHeartToPaper Go Beyond Clichés to Bring Tears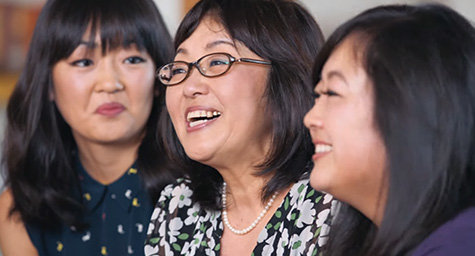 This Mother's Day, simple sentiment is simply not enough. Hallmark wants people to dig deeper than the familiar phrases, "Thank you" and "I love you," to tell mom how much she truly means. This is the touching thought behind Hallmark's "Put Your Heart to Paper" campaign (#PutYourHeartToPaper), which asks people to describe how they feel about their mothers without using those stereotypical sayings. The card company felt this was a more heartfelt way to express the emotions both behind and beyond those expressions. To capture how much their words meant to their moms, the participants' mothers were secretly listening to their loving thoughts in another room. The moms were touched to tears by their tender words and their reactions were recorded in a series of videos, which comprised the ad campaign. HuffingtonPost.com shared highlights of Hallmark's creative advertising campaign to show how words can mean more than words.
In the "Put Your Heart to Paper" campaign, each video features a mom's emotional reaction to her child's personal feelings.


Children mention how their moms have been their teacher, their soul mate, and their guiding light throughout their entire lives. Their expressions of true emotion mean more that "I love you" ever could.
"I think that most moms rarely know the impact we made on our children," said one mom, Lisa, in regard to her daughter's comments. "I don't think there is anything more important that I have done than being a mom."
While showing how much the moms are truly touched, the campaign also touches on the power of using heartfelt emotion in ads. By pulling at the heartstrings, brands can spawn a positive reaction that will grow into a relationship.
The loving videos can be seen on Hallmark's YouTube channel and shared using #PutYourHeartToPaper.
Discover strategies for successful advertising. Contact MDG today at 561-338-7797 or visit www.mdgsolutions.com.
MDG, a full-service advertising agency with offices in Boca Raton and New York, NY, is one of Florida's top branding firms. MDG's capabilities include print advertising, direct mail marketing, branding, logo design, creative, digital marketing, media buying and planning, radio and TV advertising, Web design and development, online video advertising, email marketing, content marketing, social media marketing, and SEO. To learn about the latest trends in advertising and branding, contact MDG today at 561-338-7797 or visit www.mdgsolutions.com.