Healthcare Marketers' Biggest Mobile Mistake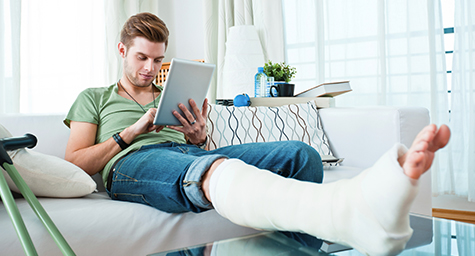 This summer, The New York Times did something pretty unusual: the company blocked desktop access to its website for employees inside headquarters, forcing them to access nytimes.com from mobile devices.
Why did the Times do this? As the management team put it in a note to the staff: "We've made significant strides on mobile in the last year, but we believe passionately that we have much farther to go…More than half of our traffic to The Times is on mobile. We're hopeful that this temporary change will help spur us to make mobile an even more central part of everything that we do."
This same sentiment applies to almost every industry; consumers are increasingly mobile-first, accessing sites via smartphones or tablets, yet companies still create website experiences with desktop users in mind. That has to change.
Healthcare is no exception—in the industry, mobile optimization often remains an afterthought, not a central goal. For example, an analysis by Didit examined the websites of 52 top-rated New York hospitals to evaluate their mobile-friendliness. The conclusion: 60% are not properly optimized for mobile.
This failure to properly optimize websites is, by far, the biggest mobile mistake healthcare marketing professional make.
Why is it such a big deal?
First, because, as the memo notes, a huge share of Web traffic now comes from mobile devices. In fact, according to comScore data from last year, 60% of all digital time is spent on mobile devices vs. 40% on desktops.
Moreover, people globally now use more mobile devices than desktop devices.
Put simply: It's likely that for many of your customers—in fact, very likely a majority—mobile is the primary platform for interacting with your website.
So having a poorly optimized site—one that loads slowly on mobile devices, that doesn't display images and fonts properly, that doesn't include all functionality—makes interacting with your brand extremely frustrating for a large share of your visitors.
Beyond the customer experience, a poorly mobile optimized site has a second huge downside: search. Earlier this year, Google announced that mobile friendliness would now be a search rank factor. In other words, being mobile optimized can help you rank higher, and not being mobile optimized can hurt your position.
Why did the company make this move? Because, as this ClickZ analysis shows, more than half of Google search traffic now comes from mobile devices:
So how do you know if your site is mobile optimized? Google has you covered. The company created this mobile-friendly test, which allows you to enter any URL and see how it performs.
Ultimately, taking the time to test your site and make any necessary changes is absolutely worth it. If your website is not mobile optimized, a large share of your visitors will have a frustrating experience and you're likely to drop in search rankings. Those are two huge motivations to start thinking mobile-first.
Learn the latest mobile strategies for healthcare marketing. Contact MDG today at 561-338-7797 or visit www.mdgsolutions.com.
MDG, a full-service advertising agency with offices in Boca Raton and New York City, is one of Florida's top healthcare marketing companies and branding firms, whose healthcare clients include Dental Care Alliance, MDVIP, Max Planck Florida Institute, MD Now, and HCA East Florida. MDG's core capabilities include branding, logo design, print advertising, digital marketing, mobile marketing, email marketing, media planning and buying, radio and TV advertising, outdoor advertising, newspaper, video marketing, infographic development, website design and development, content marketing, social media marketing, and SEO. To learn more about the latest trends in healthcare marketing, contact MDG today at 561-338-7797.