Here's How People Look At Your Facebook Profile—Literally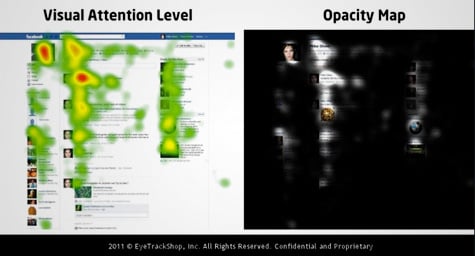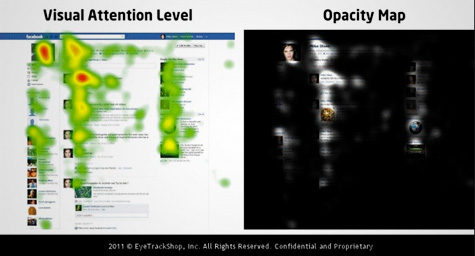 Today, social media profiles have moved beyond friendly fun to create definitive impressions on both professional and personal contacts. As a result, it's more important than ever to understand how your profile is perceived. To determine what people really see when viewing your profile, Mashable.com conducted a study with the eye-tracking startup, EyeTrackShop, to apply the emerging eye-tracking technology to the social media spectrum.
The study entailed recording the eye movements of 30 subjects via webcam as they took 10-second views of profile pages on a variety of social media sites. The results were rather eye-opening and included the following findings:
1. Pictures Take Priority – Profile photos were what garnered the most visual interest on Facebook and StumbleUpon.
2. Contacts Hold Clout – The thumbnail photos of people you know gained notable attention on Google+, Twitter, Facebook, and Klout.
3. What's on Top Comes Out on Top – Content on the top of a profile page consistently had more views that anything on the bottom. This was especially apparent on Pinterest, Digg, and Facebook, but less so on YouTube and Twitter.
4.  Profession Can Matter Most – LinkedIn viewers noticed job title more than any other element on the profile page.
As you can see, viewing priorities were often affected by the content and purpose of the social media site. Still, these findings can help people prepare a better profile by showing the importance of the visual in the land of the virtual.
To incorporate innovative strategies into your marketing mix, contact MDG today.
MDG, a full-service Florida advertising agency with offices in Boca Raton and New York, NY, specializes in developing targeted Internet marketing solutions, exceptional creative executions and solid branding and media buying strategies that give clients a competitive advantage. Our core capabilities include print advertising, branding, logo design, creative, digital marketing, media planning and buying, TV and radio advertising, customer relationship management, inbound marketing programs, public relations, Web design and development, email marketing, social media marketing and SEO. View MDG's creative marketing portfolio.
Read more at Mashable.com.