High-Flying Social Media Marketing Advice from the World's Top Airline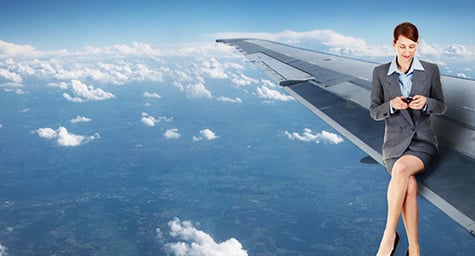 Cathay Pacific is a breath of fresh air in social media. Most major brands overlook that social media is designed for social interaction. Those brands post and promote plenty of messages, but rarely respond to their fans and feedback. They use social media as a one-way ticket to one-way promotion and forget that it's meant for two-way communication. But Cathay Pacific is different and engages in a very timely manner with every person who posts under @cathaypacific. As a result of their responsiveness, Cathay Pacific is as much of a leader in social media as it is in the airline industry. Forbes.com aired some of the airline's best social media tips that have helped them soar above the rest.
Reserve a Seat Solely for Social Media
At Cathay Pacific, they realize that social media plays a part in each of their departments, from marketing to branding to customer service. With social media spanning such a broad scope, it demands a full-time supervisor to set up, support, and sustain all of the company's social communications. The job is more than a matter of posting promotions. It requires strong skills in business, branding, marketing, writing, customer service, and interpersonal communication.
Ascend to the Highest Level of Customer Service Offline and Online
Cathay Pacific strives to deliver outstanding customer service at every step of a customer's journey at every single digital, social, and physical touch point. They view every customer interaction as an opportunity to provide stellar service and convey the company's care and commitment.
"As a quality carrier we look at every single touch point from the customer perspective," said Cathay Pacific's Dennis Owen. "If you are going to pay the extra money for a premium airline you should get more in terms of service, and that includes social media."
Pilot Your Messages to Specific Social Media Platforms
Cathay Pacific recognizes and respects that each social media channel has its own strengths and characteristics. They realize that their biggest fans are on Facebook, so they use the platform to post promotions, special offers, limited-time deals, and content about the airline's offerings and happenings.
Meanwhile, they know that Twitter is where their loyal customers and people interested in international travel reach them, so they target their Twitter posts to these audiences and interests.
In contrast, their LinkedIn audience is more business-oriented, so they post content on the aviation industry and their premium business travel services.
And they've discovered how visually focused platforms like Pinterest and Instagram appeal to a younger crowd looking to share travel ideas, inspiration, and personal experiences. As a result, the airline posts pictures of destinations to take viewers on a visual, virtual voyage and inspire them to travel. To appeal to their sharing preferences, Cathay Pacific is running an Instagram campaign that encourages people to share their pictures under the hashtag #lifewelltraveled.
Cathay Pacific clearly understands how to navigate social media and serves as a model for other brands looking to reach new heights with their social media marketing.
Explore the latest trends in social media marketing. Contact MDG today at 561-338-7797 or visit www.mdgsolutions.com.
MDG, a full-service advertising agency with offices in Boca Raton and New York, NY, is one of Florida's top branding firms. MDG's capabilities include print advertising, direct mail marketing, branding, logo design, creative, digital marketing, media buying and planning, radio and TV advertising, Web design and development, online video advertising, email marketing, content marketing, social media marketing, and SEO. To learn about the latest trends in advertising and branding, contact MDG today at 561-338-7797 or visit www.mdgsolutions.com.