High School Students Build Car Fueled by Social Media Likes, Shares, and Tweets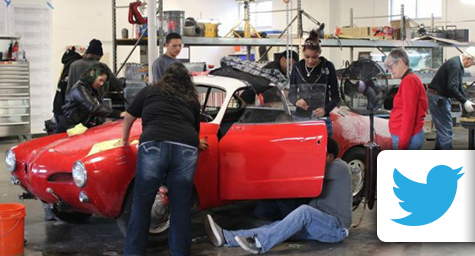 Social media has been praised for driving traffic on the Internet, but now it's driving real traffic on the interstates. A group of high school students and their mentors in Kansas City recently modified a 1967 Karmann Ghia so it was only able run when mentioned in social media. More than just powering a car, the project helped empower these students who were part of an afterschool group for at-risk kids called MINDDRIVE. This program pairs students with mentors to motivate them about learning through hands-on automotive work. At the end of each year, the group's final project is a road trip in the car they crafted during the program. Wired.com offered a look under the hood of this socially minded social media project.
After modifying the older car by adding an electric drivetrain, the students hit the road.  The group drove the car from Kansas City to Washington, D.C. in order to meet with elected officials to raise awareness about education. To propel the car forward and promote their project, they had attached an Arduino to the electric drivetrain, which they had specially programmed to power the vehicle only when there were social media mentions about their effort. These included mentions under the hashtag #MINDDRIVE, as well as though buzz at @minddriveorg on Twitter, Facebook likes and shares, Instagram follows and shares, and YouTube video views, shares, and follows.
"It gives them the sense of being able to go back to school and do anything," said Steve Rees, Minddrive's director. The program has always encouraged collaboration, cooperation, and communication through the construction of the car, but this new social media element drove home the lesson that the only way to make people care about your goal is to clearly tell them about it.
Cleverly called the Social Fuel Tour, this year's project was made possible by the program's corporate sponsors, including Hertz and Bridgestone, along with pro bono contributions from marketing agency VML, which worked closely with students to show them how to use social media in the workplace. The students learned ways to apply social media in real-world situations and how to properly represent both themselves and the Minddrive brand.
Twenty students participated in the road trip and made stops at schools and technical centers along the way in Illinois, Indiana, Ohio, and Pennsylvania. The final destination was a press conference on Capitol Hill that enabled the students to speak about the need for more experiential learning programs.
While their goal was to get more government support for these educational opportunities, they received plenty of social support along the way which literally fueled both their trip and their desire to make a difference.
For a closer at how they steered their social media journey, view the video here.

Use social media to promote a message and propel your brand. Contact MDG.
MDG is a full-service advertising agency and one of Florida's top creative ad agencies. With offices in Boca Raton, FL and New York, NY, MDG's core capabilities include branding, logo design, digital marketing, print advertising, mobile marketing, email marketing, media planning and buying, TV and radio, outdoor, newspaper, video marketing, Web design and development, content marketing, social media marketing, and SEO. To stay on top of the latest trends in marketing and advertising, contact MDG. To learn more about how social media is being used to fuel social good, see "Facebook Status Dramatically Increases Organ Donor Registrations."