Holiday Trends Marketers Can't Ignore [Infographic]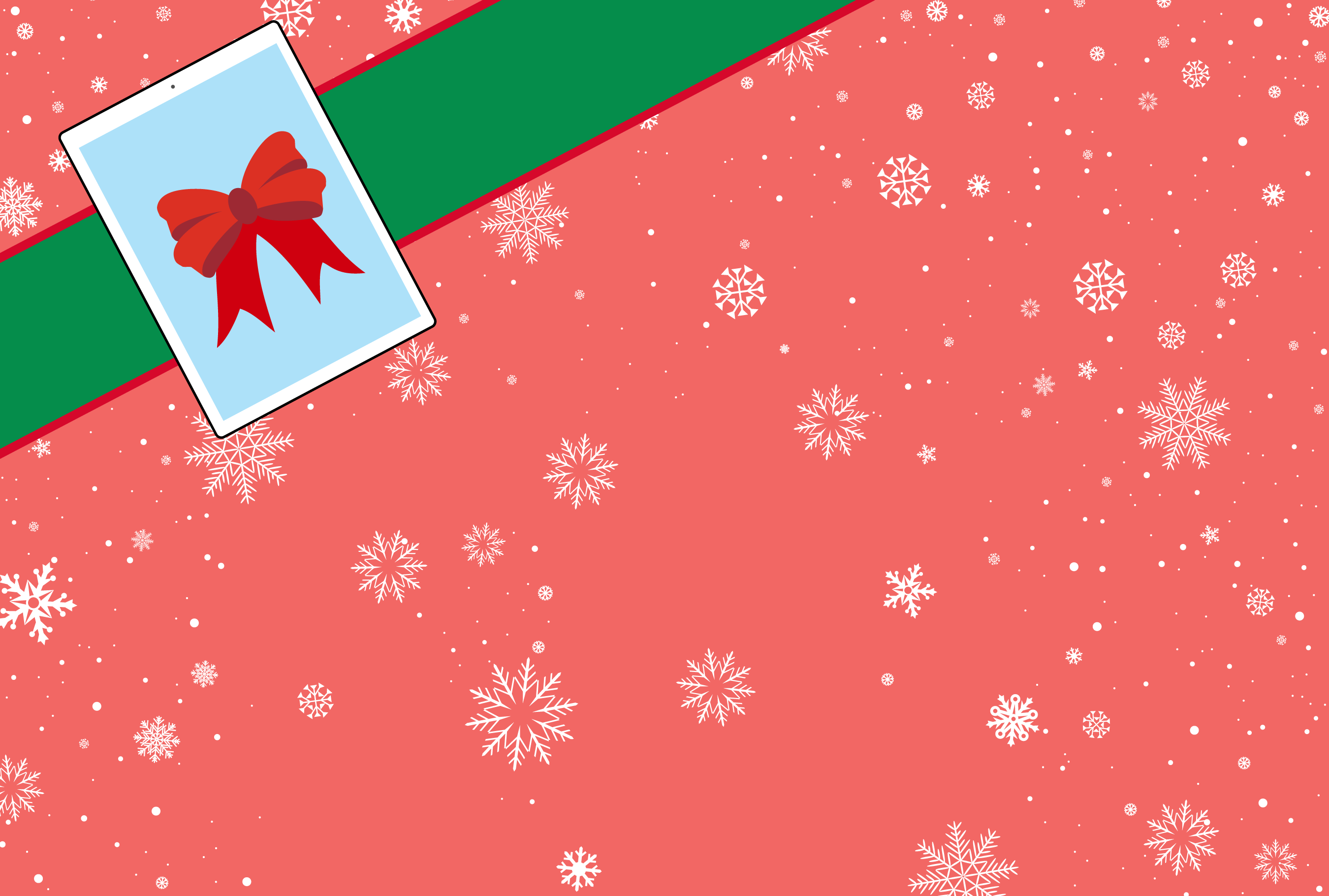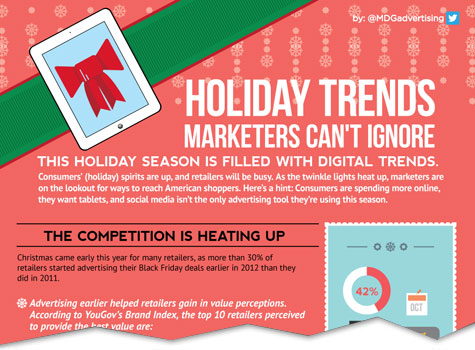 Each year, the holidays bring out consumers looking for great gifts and good deals. Yet long before the masses hit the malls, marketers have their eyes on spotting the shopping trends of the season that will determine the direction of their holiday marketing efforts. To offer these marketers the gift of guidance, MDG created the following festive infographic. It shows how digital is driving the way Americans are shopping and spending this season. From online shopping to mobile browsing and social media recommendations, shoppers favor the convenience and ease of these digital means. As a result, marketers are wisely leveraging these channels for maximum reach and response to ensure the happiest holiday results.
[jump]
The infographic opens with a competitive overview of how more than 30 percent of the top 10 retailers got a head start on holiday shopping by advertising Black Fridays deals much earlier this year. This strategy proved successful and 43 percent of consumers actually started shopping around Halloween.
Then, the graph illustrates how mobile is making a major difference in our buying behavior as 40 percent of consumers plan to browse items on their mobile devices before making their holiday purchases. Among these mobile mavens, 42 percent will use them to search for special deals while 41 percent will seek competitive prices on Amazon and 37 percent will simply browse online for interesting items. Fortunately for retailers, mobile pays off since shoppers on tablets typically spend more than those on desktops.
Online shopping has proved popular for years, but this holiday season should see a whopping 98 percent of consumers doing some of their buying online and two-thirds of shoppers doing most or all of their spending on the Internet. The rate of online shopping has steadily risen in recent years and 2012 is expected to bring a 17 percent increase in online sales during November and December.
Next, the infographic shows that tablets are hot for the holidays. More than half of all consumers want one of these digital devices, with one-quarter of them willing to forgo other gadgets in order to get a tablet of their own. It should come as no surprise that more than 30 percent of holiday shoppers buying tablets are actually getting them for themselves. Interestingly, 87 percent of tablet buyers will base their selection on consumer reviews, while 77 percent will opt for free shipping offers and 68 percent will base their buys on brand reputation.
The infographic also addresses social media, as its popularity and power continue to rise. While it may not be the top trend of the holiday shopping season, marketers are investing more money into advertising on social media channels this year. In comparison to 2011, almost half of marketers have significantly raised their holiday spending on Facebook while nearly one-third have made a similar substantial increase on Twitter.
Finally, the holidays no longer end on Christmas Day since price-savvy shoppers see this as just the beginning of their post-season shopping and saving. More than half of Americans will be out seeking deals and steals right after the holiday has ended. This means that marketers will have more time and many more opportunities to wrap up a successful holiday shopping season.

Spread the Word
At MDG, a full-service traditional and digital marketing agency with offices in Boca Raton and New York, NY, our 360° marketing approach uses just the right mix of traditional and online media to reach your holiday marketing goals. While some industries may fare better in print and others online, we strive to create a balanced approach where traditional and digital marketing efforts support each other and your message is tailored to the medium. To stay on top of the holiday shopping trends for the 2012 season, contact MDG today at 561-338-7797 or visit www.mdgsolutions.com.