Honda Targets Pinterest Users, Asks Them to Take a Day Off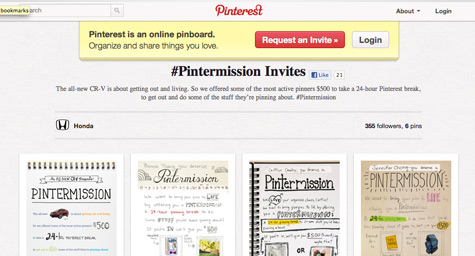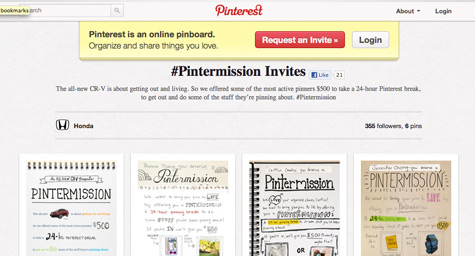 The popularity of Pinterest has made it incredibly popular with brands as a means of increasing brand awareness and driving referral traffic. Now, Honda has become one of the few auto companies to leverage the power of Pinterest with the recent debut of its official Pinterest page and a full-scale social media campaign targeted to this thriving online community. AdAge.com reported on how Honda is racing to establish a Pinterest presence.
"It's such a fast-growing social media network and seemed like a really good, different, creative outlet for us and a chance to use a visual medium to promote our cars," said Lauren Ebner, assistant manager of social media at American Honda Motor Co.
The image-driven format of Pinterest allows Honda to post pictures of its cars as a way to bring viewers directly to its website so they can learn more about the vehicles that catch their eye. Currently, the brand is featuring images of its Honda CR-V because it's targeted to Pinterest's predominantly female audience, who comprise about 60 percent of the site's overall activity. In addition, Honda has launched a social media marketing campaign that provides frequent "pinners" with $500 to take a 24-hour break from the site and experience some of the places or products they have "pinned." Already, recipients have plans to visit Hawaii and London.
Despite its momentum as one of the fastest-growing platforms today and ranking as one of the top 30 U.S. sites by total page views, Pinterest has not caught on as quickly with auto companies. In fact, very few have created Pinterest pages or even included the site in their marketing strategies. This gives Honda a solid competitive advantage by being one of the first auto brands to initiate a social media relationship with Pinterest users. Some automakers like Subaru and Volkswagen have briefly tested the waters on the site, while others such as Nissan and Infiniti have reserved handles but haven't launched any efforts.
With Honda racing ahead of the pack to secure its place on Pinterest, it will be interesting to see how many other car companies shift into gear and start developing Pinterest strategies of their own.
To learn how to leverage the power of Pinterest in your social media marketing strategy, contact MDG today at 561-338-7797, or visit www.mdgsolutions.com.
Read more at Adage.com.