Hotel Guest's First Impression More Critical These Days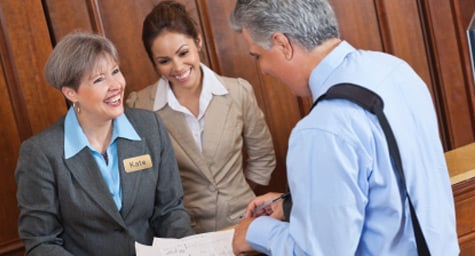 Today's real-time, instant-access approach to communication has empowered travelers to express their immediate opinions at a moment's notice. As a result, hotels must make an outstanding impression from the very first point of contact or risk a traveler's disappointment being broadcast online through social media networks. According to a recent article in The Wall Street Journal, this pressure to impress has led many hotels to increase their efforts to "wow" guests within the first 15 minutes. HotelMarketing.com featured details from that article to explain how hotels are being driven to dazzle from the start of the stay.
"If you lose them at the beginning, it is very hard to recover," says Mickael C. Damelincourt, general manager of the Trump International Hotel & Tower Toronto.
"In their mind they've decided it is a bad hotel."
To avoid such a situation, hotels are going to great lengths to make good first impressions. Some hotels are enhancing their lobbies with unique décor and eye-catching features, while others are making service the star by going above and beyond to welcome each guest. It has become increasingly common for hotel staff to lavish gifts on children and pets, as well as to offer complimentary refreshments upon arrival.
For instance, Hilton Worldwide Inc.'s DoubleTree by Hilton hotels have offered warm chocolate chip cookies to guests during check-in for more than 20 years. With this new emphasis on first impressions, hotel staff now offer these cookies immediately as guests approach the front desk. This subtle shift has made a big difference in guest perception and the hotel's customer-satisfaction scores on the arrival experience have greatly improved.
Experts say social media is the cause of this new pressure to please since guests can instantly post about their hotel experiences on a variety of social media platforms. Whether they tweet their opinions on Twitter or detail their stay on rating sites like TripAdvisor, their words hold a lot of weight with other travelers who place a high degree of trust in these personal, unbiased reviews.
Unfortunately, the first impression doesn't end at check-in. Hotel managers say the cleanliness of guest rooms is a crucial element that can generate a huge amount of positive or negative online feedback. As a result, rooms now feature welcoming gestures to get in guests' good graces, from overflowing candy jars to child-sized slippers.
While social media has definitely increased the pressure on hotels to perform from the get-go, it also presents valuable rewards. A satisfied guest can be a hotel's strongest advocate and provide the powerful social media word-of-mouth which is the greatest promotion of all.
To incorporate social media into your hotel's marketing strategy, contact MDG today at 561-338-7797 or visit www.mdgsolutions.com.