Hotels Dish Up Fast Food to Cater to Casual Crowds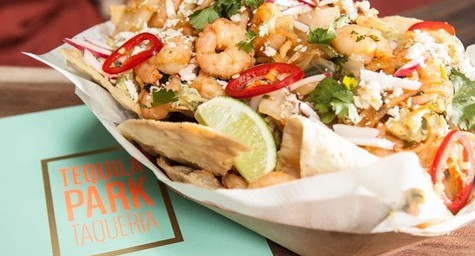 More and more hotel restaurants have switched from serving swanky, sit-down meals to casual, comfort food in an effort to appeal to the tastes of today's guests. Traditionally known for their fancy fine dining, hotels have been embracing convenience food favorites and serving them with an upscale spin. From gourmet burgers and cheesy fries to kimchi shrimp nachos and spiked shakes, hotel restaurant menus have recently been more inspired by the street than the chic. USAToday.com reported on why fast food has become a fast favorite with high-end hotels.
The elegance and extravagance of hotel dining has lately been replaced by laid-back lounges and casual eateries. Guests no longer want just haute cuisine, but like to be able to also indulge their cravings for gooey grilled cheese and sharable sliders.
"Hotel dining is definitely not what it was 10 to 20 years ago, just as the industry is structured differently than it was 10 to 20 years ago," said Hudson Riehle, senior vice president of research for the National Restaurant Association. "One of the most important drivers of restaurant industry sales, and this is also true of lodging food service, is convenience."
A prime example is The Hudson Hotel in New York City, which recently opened a relaxed burger-and-beer joint featuring creative burgers on fresh-baked rolls served with a side of duck-fat fries. While inspired by the fast food favorites we know and love, hotels are elevating this classic comfort food to make it much more special than the average drive-through.
Beyond burgers, ethnic street food like tacos and nachos has also become hot on hotel menus. Yet a major difference is that hotels are using finer and fresher ingredients and redesigning their venues to be more hip than haute. For example, IHG's Holiday Inn Resort Los Cabos built an outdoor taco stand to serve a rotating menu of creative tacos and fresh drinks.
Industry experts explained that this hip hotel dining is simply a natural extension of the convenience and comfort popular in restaurants today. After all, takeout and delivery now make up 70 percent of restaurant traffic.
Still, it's important to realize that a hotel's farm-raised Angus burger is vastly different from a chain's cheeseburger. Hotel restaurants are striving to serve this fast-food fare in a much finer and more fashionable way.
To learn more about the latest trends in hotel marketing, contact MDG today at www.mdgsolutions.com.
MDG, a full-service advertising agency with offices in Boca Raton and New York, NY, is one of Florida's top hotel marketing agencies. Our 360° approach uses just the right mix of traditional and online media to reach your hotel's marketing goals. While some industries may fare better in print and others online, we strive to create a balanced approach, where traditional and digital marketing efforts support each other and your message is tailored to the medium. To stay on top of new hotel marketing trends, contact MDG.