How a Social Media Profile Picture Can Express a World of World Views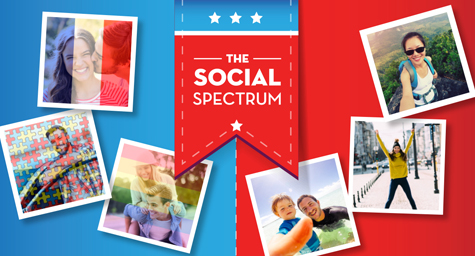 If a picture is worth a thousand words, can simply changing the profile picture on one's social media page speak volumes about their views of world events? Yes, according to a new Pew Research Center survey in association with the John S. and James L. Knight Foundation, which found that 18% of American social media users changed their social media profile photos as a way of showing support for or bringing attention to an event or issue. For the big picture on this social shift, Pew Research shared a look at this social expression of global empathy.
The Picture of Political Perspectives
This sort of social media expression was found to be more common among people who were politically liberal. Researchers revealed that 26% of liberals used their social profile photos as a means of response to world events and issues, increasing to 30% of liberals between the ages of 18 and 49. In contrast, this behavior was exhibited by merely 16% of moderates and just 14% of conservatives.
A Different Display Among Demographics
According to the survey, this social photo phenomenon varied among different races, genders, ethnicities, and ages. The most intriguing findings included:
Black social media users changed their profile photos more than both whites and Hispanics.
More female social media users posted new profile photos than men.
22% of social media users ages 18–29 and 30–49 participated in this behavior.
13% of users ages 50–64 changed their photos.
Only 5% of users age 65 and older replaced their photos in response.
The Look of Social Support
Among the survey participants who changed their social profile photos due to world events, 42% did so following the terror attacks in Paris. In fact, many of them used a filter on their photos with the colors of the French flag. Another issue that earned social photo support was LGBT rights, which inspired 21% of the surveyed social media users to post a different photo, many using a rainbow-colored filter.
Get the latest updates on social media trends. Contact MDG.
MDG, a full-service advertising agency with offices in Boca Raton and New York, NY, is one of Florida's top branding firms. MDG's capabilities include print advertising, direct mail marketing, branding, logo design, creative, media buying and planning, radio and TV advertising, outdoor, newspaper, digital marketing, website design and development, online video advertising, infographic development, email marketing, video marketing, mobile marketing, content marketing, social media marketing, paid search marketing, and SEO. To learn about the latest trends in advertising and branding, contact MDG.