How Digital is Delivering a Much Larger Audience to Newspapers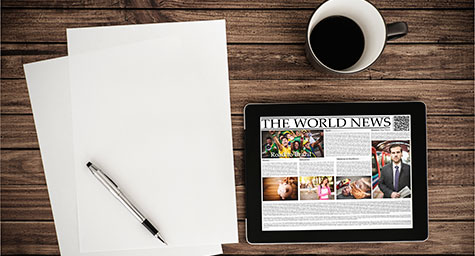 Digital has helped newspapers turn the page from their traditional format and evolve into a modern medium that suits our high-tech times. In August 2014, newspaper access reached an all-time high as a whopping 80% of online U.S. adults accessed newspaper digital content. And audience engagement also hit new heights with an 18% year-over-year increase in the audience engaged with this digital content. These were just few of the favorable findings from a new study by the Newspaper Association of America conducted by comScore. MediaPost.com featured more from the study to show the power of digital access is keeping newspapers growing and going strong.
Newspaper is Still Making Headlines and Headway
The study reported a number of promising findings about newspaper's thriving digital audience. Some of the most astounding included:
The newspaper digital audience saw a 38% rise in young women ages 18–24, making this the fastest-growing segment.
A whopping 92% of women ages 25–34 read newspaper digital content, which was the greatest reach among any age or gender.
There was a 204% surge in the number of young women ages 18–24 engaged with newspaper digital content only through mobile.
Mobile is Behind the Story
This substantial growth in the newspaper digital audience is largely attributed to mobile.
For the first time in history, the number of people who used only mobile devices to access newspaper digital media has exceeded the number of readers who only accessed this content via desktops or laptops.
In fact, the number of mobile-only readers of newspaper digital access has more than doubled to 102% over the last year.
News Matters to Everyone
And newspaper digital content is making news with many people.
While the fastest growth over the last year was the 38% rise in young women ages 18–24, this was closely followed by a 31% increase in men ages 35–44 and ages 45–54.
And this growth extended to older women ages 55+ who reported a 21% increase in their use of newspaper digital content.
The facts are printed in black and white. Newspapers still deliver. Rather than fight with digital for media dominance, newspapers are using this popular platform to remain front-page news.
Read all about the power of digital access to print media. Contact MDG.
MDG, a full-service advertising agency with offices in Boca Raton and New York, NY, is one of Florida's top branding firms. MDG's capabilities include print advertising, direct mail marketing, branding, logo design, creative, digital marketing, media buying and planning, programmatic ad buying, radio and TV advertising, website design and development, online video advertising, infographic development, email marketing, mobile marketing, content marketing, social media marketing, and SEO. To learn about the latest trends in advertising and branding, contact MDG.