How Do Americans Get Their News in 2013? [Infographic]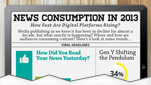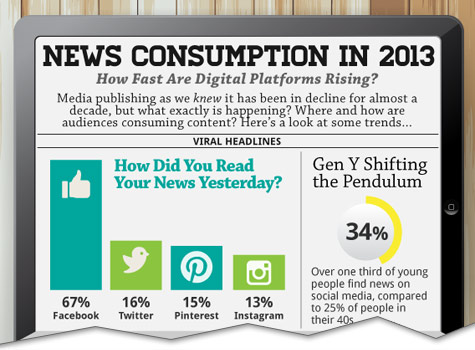 With the rise of social media and digital devices in recent years, traditional news sources have faced a steady decline. The supply of news and information available via mobile and digital devices is abundant, immediate, and allows for instant discussion and interaction. As a result, many Americans rely on the digital landscape for news; however, traditional sources are not obsolete. SocialMediaToday recently presented an infographic by Uberflip that illustrates the state of news consumption in America in 2013.
According to Randy Frisch, Uberflip's chief operating officer, "What these stats show is that media publishers, and increasingly brand publishers, need to distribute content wherever their audience is found. This can come via native apps, mobile websites, social media, or solutions like Uberflip that takes existing content and makes it interactive, shareable, and device agnostic."
Several trends were apparent in Uberflip's research. Facebook is the most prominent source for news, yet half of tablet readers read the news on both computers and print sources. While more and more vulnerable to the increasing shift in news consumption, TV is still the top source of news in the U.S., but like newspaper and radio, is in decline. The infographic also indicates that half of Americans own a tablet or smartphone, and that 64% of tablet owners and 62% of smartphone owners use their devices for news. In contrast to the 25% of people in their 40s who consume news via social media, over one third (34%) of young people use social media as a news source.
Generation Y resides in the digital media landscape, so it's no surprise that social media is a leading source for news among Millennials. With a simple swipe, click, or tap, Americans have so much information at their disposal, yet the familiarity and gratification of traditional media is undeniable. Time will tell if digital will overtake traditional, but for now, Americans are acquiring news from a multitude of sources—both new and old.


Infographic by Uberflip.
For more information on digital media, contact MDG today at 561-338-7797 or visit www.mdgsolutions.com.