How Effectively are you Using Search Marketing for your Luxury Brand?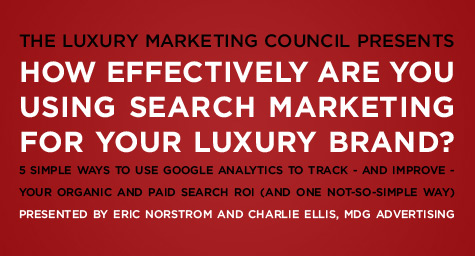 Join Us Tuesday, March 29, 2011 REGISTER HERE.
Phillips Point Club in West Palm Beach
6:00 pm Reception
6:30 pm Presentation
8:00 pm Conclusion
It's no secret that consumers of luxury goods and services are heavy users of the Internet. Engaging your audience through search and social media is key, but quantifying the impact of your digital marketing efforts in terms of ROI is crucial.
In this competitive marketplace, are you continually revisiting how your potential customers/clients discover what you have to offer? Are you leveraging web analytics to measure the performance of your website and the popularity of your brand? Your competition is, make no mistake about it. If you haven't integrated conversion tracking and web analytics as part of your digital marketing strategy, here's your opportunity to learn how.
Join MDG's Eric Norstrom and Charlie Ellis for an insightful discussion on how to leverage 5 simple tactics to use Google Analytics to improve your search marketing efforts – and one alluringly lucrative tactic to improve your conversion efficiency.
Tim Alexander
At MDG, Tim uses his impressive background in digital technology and marketing operations to deftly maneuver customers throughout every step of the marketing journey. Whether driving customers to a product app or a client's website, he commands a diverse mix of tools, including email, search, display and app marketing, data management, and marketing automation. Tim's nearly two decades of digital expertise began on the agency side with web design. He then went on to master email marketing at Omni Point, one of the first and biggest opt-in based email and data marketing companies in the world. Next, he tackled digital operations and platforms on behalf of Digicel, the largest telecommunications provider in more than 30 countries worldwide. In his current role as director of MDG's digital operations, Tim continues his legacy of delivering award-winning solutions for a digital-first industry. The results add up to an optimized conversion funnel and maximum revenue for our clients.
Charlie Ellis
As an SEO and web analytics specialist, Charlie works with enterprise-level clientele to direct link-building, competitive analysis, digital brand development, and social media initiatives. His ability to articulate resonant marketing messages with power and authority complements his ability to simplify technical SEO skills into actionable insights. He has contributed to several advanced SEO panels at SES, PubCon. SMX East, and IMSB.
MDG, a full-service Florida advertising agency, with offices in Boca Raton and New York, NY, specializes in developing targeted Internet marketing solutions, exceptional creative executions and solid branding and media buying strategies that give clients a competitive advantage. Our core capabilities include print advertising, branding, logo design , creative, digital marketing, media planning and buying, TV and radio, public relations, Web design and development, email marketing, social media marketing and SEO. To view MDG's portfolio, click here.