How Facebook's Relaunch of Atlas Will Serve Marketers' Needs for a World of Consumer Data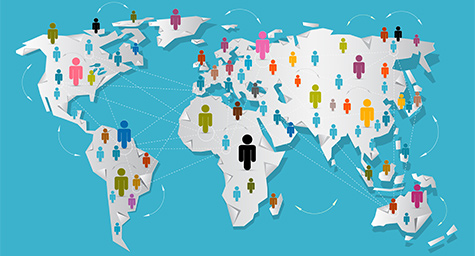 In an effort to take the task of reaching consumers off of marketers' shoulders, Facebook has rebuilt and relaunched a targeted advertising platform called Atlas. It's designed to help marketers reach consumers across multiple devices as they navigate the Web. Its overall goal is to give marketers greater insight into the ways that online ad impressions correspond and contribute to offline purchases. To see why it's so worthwhile for marketers to follow Atlas's lead, Forbes.com mapped out the many benefits.

A Chance to Chart Complete Consumer Behavioral Data
Today, consumers spend more time than ever on mobile devices, but current tracking technology doesn't work on mobile. This has made it challenging for marketers to target their ads and measure their performance overall. But Atlas should solve this problem by offering access to all of consumers' browsing and buying behavior on all of their digital devices.
Relieving the Burden of Ad Serving
The new-and-improved Atlas has a user-friendly user interface with built-in targeting and measurement capabilities. This should make it fast and easy for multitasking media planners and marketers to measure campaign performance across a multitude of digital devices.
A Titanic Boost in Optimization and Efficiency
Atlas should provide marketers with a more comprehensive collection of consumer behavioral data. This should result in better campaign optimization, along with a much more effective and efficient use of marketing dollars.
The Sky's the Limit for Data Collection
While Facebook first intends to use Atlas for online ad serving and measurement, the company plans to expand the ad-purchasing platform into offline sales. See, consumers spend an abundance of time and money on e-commerce, but many prefer to shop and spend in-store. While it has previously been very difficult for marketers to connect these in-store purchases to online ad exposure, now Atlas will be able to bridge that gap. So if a consumer provides their email address to a retailer during checkout, then Facebook could inform the retailer about the consumer's prior exposure to any of the store's online ads.
It's easy to see how Atlas can connect marketers to the world of consumer buying behavior. Now, it's up to social media marketing experts and media planners to map out how to make Atlas serve their ad needs.
Connect with the latest trends in social media marketing. Contact MDG.
MDG is a full-service advertising agency and one of Florida's top branding firms. With offices in Boca Raton and New York City, MDG's core capabilities include branding, logo design, print advertising, digital marketing, mobile advertising, email marketing, media planning and buying, TV and radio, outdoor advertising, newspaper, video marketing, Web design and development, content marketing, social media marketing, and SEO. To discover the latest trends in advertising and branding, contact MDG.