How Fortune 500 Blogs Made the Corporate World "Like" Social Media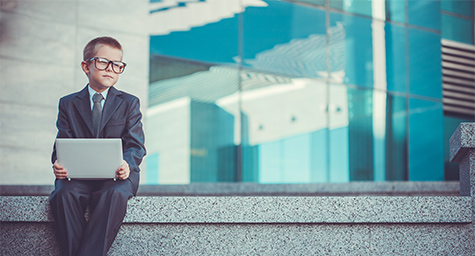 While blogging has been big business for numerous companies over the last few years, Fortune 500 corporations have been hesitant to work blogs into their communication strategies. But according to the 2014 University of Massachusetts Dartmouth Center for Marketing Research study, Fortune 500 companies are finally embracing blogging, which is accelerating their acceptance and adoption of all forms of social media. MediaPost.com featured more on this social study to show how blogs have helped social media work its way up the corporate ladder.
The first study on Fortune 500 social media adoption was conducted in 2008 and then repeated every year to chart any change in perception. Researchers focused on the social practices of Fortune 500 companies because they have such an immense influence on the direction and decisions of the entire business world. As a result, the way that these corporate leaders used social media blogs offered important insight into the social media trends of tomorrow and the future of big business.
The original study only analyzed blogs and the early platforms of Facebook and Twitter, but has gradually been expanded to include newer social media platforms and tools, such as Instagram, Foursquare, LinkedIn, Pinterest, Google+, and social following data.
The 2014 study revealed how social media has finally earned executive acceptance:
31% of Fortune 500 companies have active corporate blogs this year, which is 8% more than in 2011.
83% of Fortune 500 companies have corporate Twitter accounts and have shown tweeting activity in the past month.
This is first year that the 413 corporations with corporate Twitter accounts come from all 72 industries in the Fortune 500.
80% of all Fortune 500 corporations are now on Facebook, which is a 10% increase over last year.
All of the top 10 Fortune 500 companies have corporate pages on Facebook, indicating that it has become a mainstream method of communication.
A company's rank in the Fortune 500 tended to influence its adoption of blogging, with corporations ranked in the top 200 consistently blogging more than those in the bottom 200.
Almost 50% of all Fortune 500 blogs belonging to the top 200 corporations on the list keep their blogs active by frequently posting, taking comments, encouraging discussions, and offering the follow features of RSS and email subscriptions.
In the last year alone, 42% more of these companies are using Pinterest, while 27% more are using Instagram.
9% of Fortune 500 companies had corporate Foursquare accounts in 2013, while 51% have them now.
These social tools are redefining the way that the world does business. And now the biggest names in the business world are following their lead.
Incorporate blogging into your brand's social media marketing strategy. Contact MDG today at 561-338-7797 or visit www.mdgsolutions.com.
MDG is a full-service advertising agency and one of Florida's top branding firms. With offices in Boca Raton and New York City, MDG's core capabilities include branding, logo design, print advertising, digital marketing, mobile marketing, email marketing, media planning and buying, TV and radio, outdoor advertising, newspaper, video marketing, Web design and development, content marketing, corporate blogs, mobile marketing, social media marketing, and SEO. To discover the latest trends in branding and advertising, contact MDG today at 561-338-7797.