How Full-Spectrum Eye Tracking With Google SERPs Impacts Local Search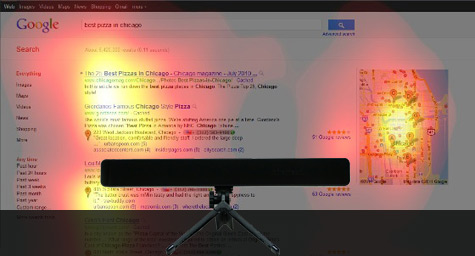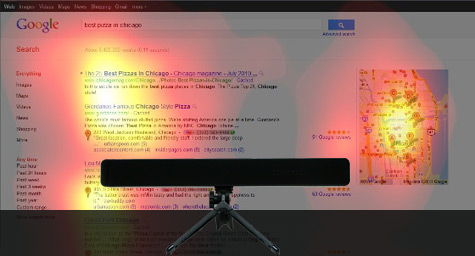 Full-spectrum eye tracking has become an increasingly portable and affordable technology for researchers. To determine the value of this tracking data in regard to local search, SEOmoz.com tested five different Google SERPs representing Google's growing diversity over the past few years to reveal the impact and importance of local search ranking results.
For queries involving a very specific geographical term, the most eye activity was focused on the top listings with some on a side map. Generic search terms yielded some organic results at the top followed by an integrated seven-pack of more clearly separated Local/Places results. This boldly marked seven-pack attracted the greatest amount of attention—even more than the three results featured above it.
When the query brought up video thumbnails in the results, eye movements were focused on the first video thumbnail, despite it not being the top organic result. This showed the appeal and potential click-through power of images.
Queries about a product listed a few brand and store searches at the top, followed by images for shopping results after a few organic listings. Once again, the images attracted the most attention, with the top organic results receiving a little less.
Finally, a query for a precise product brand resulted in numerous expanded site links and boldly marked local results. Interestingly, the clearly defined local results received much more eye activity than both the brand's website and the site links.
These findings revealed that videos, images, and local demarcations can be much more effective than having a top ranking. While this was only one test, it offers some insight on how companies can increase their chances of getting noticed and getting business. Check out the visuals at SEOmoz.com
To learn how to make the latest SEO strategies work for your business, contact MDG today.
MDG, a full-service Florida advertising agency with offices in Boca Raton and New York, NY, specializes in developing targeted Internet marketing solutions, exceptional creative executions and solid branding and media buying strategies that give clients a competitive advantage. Our core capabilities include print advertising, branding, logo design, creative, digital marketing, media planning and buying, TV and radio advertising, customer relationship management, inbound marketing programs, public relations, Web design and development, email marketing, social media marketing and SEO. View MDG's creative marketing portfolio.
Read more at SEOmoz.