How Golf Brands are Swinging Toward Digital to Score More Millennials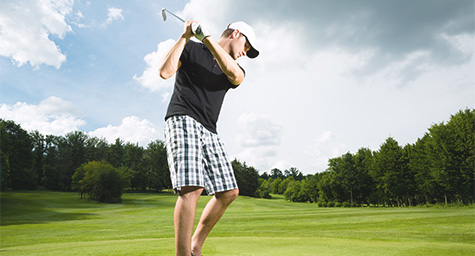 Over the last decade, golf has fallen from glory in the minds of Millennials. Some blame its fall on the fallout from Tiger Woods, while others think that the slow and staid pace of the game just doesn't suit Millennials' fast-paced, action-packed preferences. Regardless of the reason, golf brands are now taking a shot at getting this young audience into the game. With Millennials' love for social media and digital technology, marketers think that playing on their digital drive is the best way to gain a solid grip on this growing market. Adweek.com reported on how golf brands are taking a digital marketing approach to win over more Millennials.
Many media analysts agree that adding digital elements to the sport may be the way to tap into the Millennial audience.
One creative expert thinks that golf brands need to tap into the passions of this young market and tell a story about the experience that connects with them emotionally.
Another advises extreme measures like digitizing the golf course to turn the game into an interactive experience with lights, sounds, and coaching tools to suit their short attention spans.
Maybe following Millennials' digital interest will lead them into the sport. This has already worked for The Golf Channel, which has drawn hundreds of thousands of daily viewers for its online live streams over the last few months. Compare that to how major TV networks have reported the lowest ratings ever for its biggest televised golf events.
To get more young players out on the links, The Professional Golf Association (PGA) is completely redesigning its digital links. Over the next few months, the golf association is aiming to update all of its online properties in an effort to expand and evolve its various digital platforms and social media channels.
Speaking of social media, the PGA strongly needs to improve its social status. The association only has 155,000 followers on Instagram. This is nowhere near on par with even Major League Baseball, which has 1.2 million followers despite its own Millennial troubles. That's why the PGA hopes to leverage its up-and-coming young players, like Rickie Fowler and Rory McIlroy, as marketing assets because they have social media followings in the millions.
And the PGA has been developing digital marketing promotions to make the traditional sport appeal to more tech-savvy audiences. To boost engagement in the PGA Championship this summer, the association let fans vote online to pick pin placements. Yet much more is needed to make golf click with Millennials.
"We have to find ways of growing and evolving our social channels and digital platforms," said Kevin Ring, CMO of the PGA. "We have to stay up to speed with what's going on—if not one step ahead of what everyone else is doing."
Tap into the world of digital marketing to capture the Millennials market. Contact MDG today at 561-338-7797 or visit www.mdgsolutions.com.
MDG is a full-service advertising agency and one of Florida's top branding firms. With offices in Boca Raton and New York City, MDG's core capabilities include branding, logo design, print advertising, digital marketing, mobile advertising, email marketing, media planning and buying, TV and radio, outdoor advertising, newspaper advertising, video marketing, retail marketing, Web design and development, content marketing, social media marketing, and SEO. For more on the latest trends in advertising and branding, contact MDG today at 561-338-7797.