How Hilton's Local Expertise Benefits their Global Social Media Community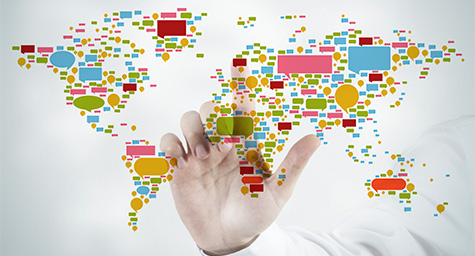 It's long been advised to think locally, act globally in order to benefit the community. Giving that phrase a social media spin, Hilton Worldwide is starting to look locally before acting globally to benefit their social media community. Hilton Worldwide houses 11 hotel brands, yet only a single social media strategist whose role is to seek content from each of these different brands and then convey their locally focused information through the global corporate platform. In exchange, the social media strategist shares the latest information on the trends and topics affecting Hilton as a whole with each of the different brands. Essentially, it's an exchange of local insight for global information that allows each brand to operate independently and stay on top of timely events, all while providing a steady stream of fresh content for Hilton's worldwide social media community. To see how the hospitality industry is reserving a place for local views in its global social media strategies, MobileMarketer.com checked out this interaction.
Hilton has found that their social media communications have been greatly improved by including insights from their individual brands. After all, social media is built on sharing personal experiences, so featuring information on the personal experience and experiences of each of their brands truly connects with guests.
Before Hilton adopted a comprehensive approach to social media, many of their individual hotel brands had started their own social media accounts. While these provided numerous portals for customer communication, they detracted from Hilton's global voice and overall image.
As a result, Hilton adopted a more comprehensive approach to its social media messaging that provided support to each of their brands while still supporting their corporate presence.
The company now works closely with each of its 11 brands to learn about their latest highlights and happenings. Then, Hilton shares these stories on social media to show the personalities of the properties to customers worldwide.
Diana Plazas, director of global brand marketing at the hotel chain DoubleTree by Hilton, expressed that Hilton has been extremely supportive of social media. The company recognizes its enormous value in the travel industry, where word of mouth and photo sharing are very important to their guests, as well as to their corporate marketing strategies. Since social media success can be more difficult to measure that most other marketing, Hilton has invested a lot of time and effort into determining the best metrics and methods to accurately measure their social media success.
Following Hilton's one-for-all social strategy is Hotels.com, which also has a single social media strategist whose focus is seeking and sharing the latest social media trends with the many members of the company's social media and customer service teams. The hotel accommodations service has found that many of its social media issues need to be handled by customer service where they have the skills and knowledge to speak in the caller's language and deal with their local currencies.
Like Hotels.com, Amtrak has learned that social media and customer service often go hand-in-hand. A company's social media strategist may receive customer concerns, but only customer service teams are specially trained to respond to them.
These examples follow Hilton's globally centered yet locally centric approach to social media. They verify the value of having a central social media strategist who's willing to seek the unique expertise of individual brands and departments in order to better serve the best interests of the social media community.
Discover the latest social media developments in hospitality marketing. Contact MDG today at 561-338-7797 or visit www.mdgsolutions.com.
MDG, a full-service advertising agency with offices in Boca Raton and New York, NY, is one of Florida's top hospitality marketing companies and branding firms. MDG's core capabilities include advertising, branding, logo design, creative, infographic development, digital marketing, creative media planning and buying, radio and TV advertising, Web design and development, email marketing, content marketing, social media marketing, and SEO. To stay on top of the latest trends in hospitality marketing and advertising, contact MDG today at 561-338-7797.